Oatmeal is a whole-grain food, meaning it is minimally processed and contains more vitamins, minerals, fiber and phytonutrients than most refined, or processed, grains. Eating oatmeal also supplies you with energy, protein and healthy fats. The nutritional value of oatmeal varies depending on whether it is cooked, instant, fortified or flavored and whether it is prepared with water or milk.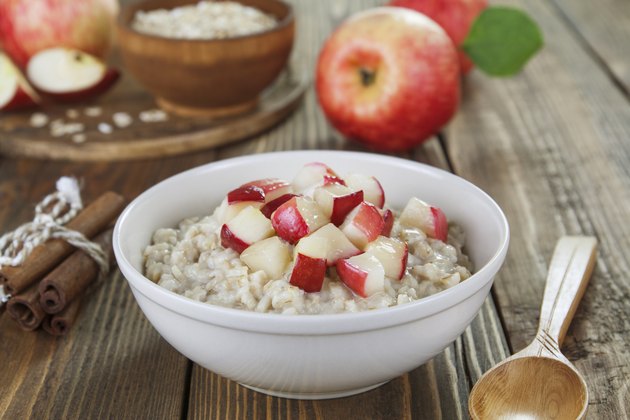 Calories, Protein and Fat
Eating oatmeal for breakfast supplies you with calories, protein and fat needed to fuel your day. One cup of plain oatmeal cooked with water gives you 166 calories, according the U.S. Department of Agriculture. It also supplies you with 6 grams of protein and 4 grams of fat per serving. These nutrients not only give you energy, but also help maintain muscle mass, body fluids, tissues and cell structure, and aid in absorption of fat-soluble vitamins and cell signaling.
Carbohydrate Content
Oatmeal is also a good source of healthy carbohydrates. Because oatmeal is a whole grain, it contains complex carbohydrates, such as dietary fiber. You'll get 28 grams of total carbohydrate from plain oatmeal, 4 of which come from dietary fiber. Your body relies on fiber to help maintain proper digestion. Soluble fiber found in oats may also help regulate your cholesterol level and blood sugar. Because fiber swells in your digestive tract, it also encourages satiety after a meal and may aid in your weight-loss or weight-maintenance efforts.
Minerals in Oats
Eating a cup of cooked oats provides you with over half of the trace mineral manganese you need daily. Manganese plays a part in the formation of connective tissue, bones, blood clotting factors and sex hormones, and aids in energy metabolism, calcium absorption, blood sugar regulation and normal brain function. You'll also meet 15 to 18 percent of the daily value for phosphorus, zinc and selenium and 10 percent of the daily value for iron from eating 1 cup of cooked oats. These minerals support your immune system, healthy bones and teeth and proper red blood cell production.
Fortified Oats
Some oats are fortified, meaning certain nutrients are added to the oats to increase their nutritional value, while other oats are unfortified. Most bulk oats or old-fashioned style oats are not fortified. Prepackaged, instant-cooking or flavored oats are commonly fortified. The major nutritional difference is that fortified oats contain more iron, calcium and the B vitamins thiamine, niacin, riboflavin, B-6 and folate per serving. B vitamins help your body metabolize energy, maintain proper growth and development, keep your nervous system working well, aid in red blood cell formation and may prevent certain neural tube birth defects.