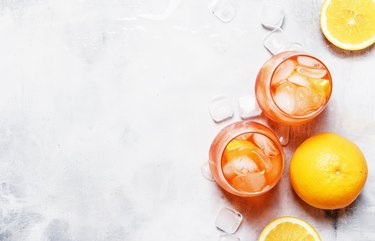 Seagram's Escapes, which makes a line of wine coolers, is a division of North American Breweries, headquartered in Rochester, New York. Along with Seagram's Escape Wine Coolers, it also distributes a number of different beers, including Genesee, Labatt and I.P.A. Magic Hat. Seagram's Escapes come in a variety of fruity flavors, including Strawberry Daiquiri, Wild Berries, Peach Fuzzy Navel and Lime Melonade. Wine coolers are a sweet and popular alcoholic beverage.
Seagram's Escapes Calories
Seagram's Escapes wine coolers are available in 11.2 oz., one serving bottles. According to the free calorie tracker app MyPlate, one bottle of Seagram's Calypso Colada wine cooler has 218 calories. Their Strawberry Daiquiri wine cooler contains 224 calories and the Wild Berries has 212 calories. Calorie requirements for the day vary by age, gender and amount of physical activity. Although wine coolers should not be a major source of calories, for a 2,000-calorie-a-day diet, Seagram's Escapes calories make up 7.5 to 9.0 percent of total calories. None of these Seagram's Escapes beverages contain any fat.
Carbohydrates in Wine Coolers
Carbohydrates are the main source of energy for the body's functions. Most of Seagram's Escapes calories come from carbohydrates, which the body breaks down into simple sugars. Again, wine coolers should not provide the main source of carbohydrates for the day. Seagram's Escapes Strawberry Daiquiri wine cooler contains 41 grams of carbohydrates with 28 grams of sugar, and the Wild Berries wine cooler has 38 grams of carbohydrates with 26 grams of sugar. Seagram's Strawberry Daiquiri wine cooler contains 41 grams of carbohydrate with 28 grams of sugar.
Seagram's Alcohol Content
Seagram's Escapes are all alcoholic beverages. Seagram's alcohol content is 3.2 percent alcohol by volume, approximately the same as a light beer. Alcohol is derived from the fermentation of sugar and starches. Alcohol contains 7 calories per gram, but those calories have no nutritional value. Drinking alcohol can affect your mental state, making you "tipsy." It slows your reflexes and muddles your ability to reason. You should never drive or operate machinery after drinking alcohol. If you are going to drink alcoholic beverages, moderation is the key.
Alcohol Intake Warning
The American Heart Association recommends that women have no more than one serving of alcohol each day and men should have no more than two servings daily. Monitoring your alcohol intake can reduce your overall caloric intake to help prevent weight gain and also help reduce your risk for heart disease and other medical conditions.
More About MyPlate
The free LIVESTRONG MyPlate calorie tracker app for iPhone and Android has helped millions of people lose weight the healthy way—by getting support from an active community as they track their eating and exercise. Consistently a top-rated app, MyPlate offers the latest technology in an easy-to-use tool that includes millions of foods and recipes, 5-minute in-app workouts and a robust support community.