Many Americans experience a generalized anxiety disorder, a panic disorder or panic attacks. Some people manage to recover from panic attacks without needing any treatment, while others benefit from therapy and medication. The other anxiety disorders usually require therapy and medication. Xanax is one medication that is prescribed to treat these anxiety disorders, but there are side effects, including changes in liver enzymes.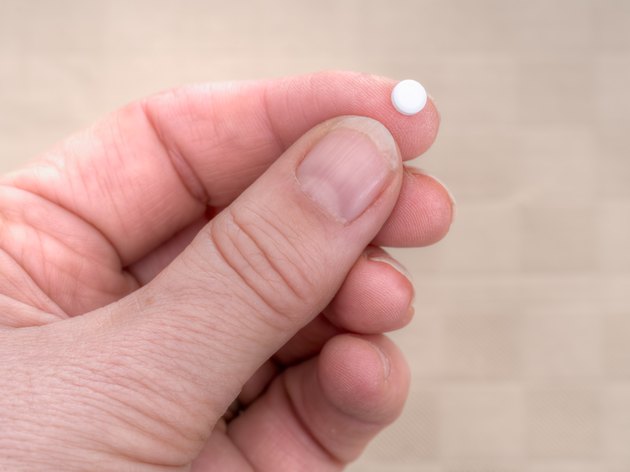 What is Xanax?
Xanax is alprazolam, a drug in a group of medications called the benzodiazepines. There are proteins called receptors located on cell membranes or within cells that wait on instructions so they know what to do. Benzodiazepines attach to receptors on the nerve cells, and this results in less anxiety, relaxed muscles and sedation, as explained in "Goodman & Gilman's The Pharmacological Basis of Therapeutics" by Dennis Charney, M.D., Dean of Research at the Mount Sinai School of Medicine.
Use of Xanax
Xanax is used to treat panic attacks, a panic disorder and a generalized anxiety disorder. A panic attack describes the condition where someone suddenly feels very anxious or fearful. Approximately 10 percent of Americans have panic attacks every year, according to John Greist, M.D., clinical professor of psychiatry at the University of Wisconsin in "The Merck Manual for Healthcare Professionals." People who keep having panic attacks may have a panic disorder. In a generalized anxiety disorder, people are extremely anxious or worried about many things almost every day for at least six months.
Side Effects
According to Lexi-Comp, Xanax can cause a variety of side effects. More than 10 percent of the people who take it may become constipated, develop a dry mouth, have problems urinating, and have a change in their appetite and weight. From 1 percent to 10 percent can develop problems breathing, muscle and joint pains, menstrual problems, low blood pressure, rashes, nightmares, hallucinations, double vision, dizziness and seizures. Some may sleep too much, become confused and disoriented. Others can become jaundiced and have an abnormally high level of bilirubin and liver enzymes.
What Are Liver Enzymes?
Enzymes are a type of protein used by the cells to speed up the time of a reaction. Aspartate aminotransferase, AST for short, and alanine aminotransferase, also referred to as ALT, are the liver enzymes. The AST enzyme is mainly found in the liver, but also found in skeletal muscle, blood cells and certain organs, per Daniel Pratt, M.D., assistant professor of medicine at Harvard Medical School in "Harrison's Principles of Internal Medicine." ALT is mainly found in the liver. Thus, an increase in the liver enzymes, which can happen from taking Xanax, usually means the liver cells have been injured, especially if the levels are higher than 1,000 U/L, for the normal range is 7 to 40 U/L.
Is This an Emergency?
If you are experiencing serious medical symptoms, seek emergency treatment immediately.