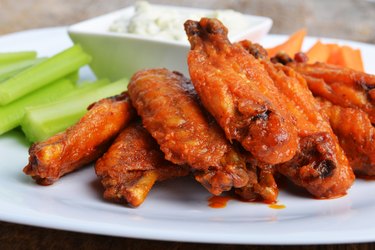 Neither pizza nor buffalo wings jump out as particularly healthy foods, but sometimes after a long day when you're not in the mood to cook, having something to eat that's quick and easy may be what you want. Fast foods are not all the same, and you can make smart choices that keep you on track with your goals for healthy living.
Battle of the Calories
One of the first things to note when deciding which of two food is healthier is the calorie content. According to BBC News, the average medium pizza contains between 836 and 929 calories. The calorie content of wings can vary greatly depending on how many come in a serving. An appetizer of wings from a popular restaurant can provide between 860 and 1,250 calories, but a portion from a popular pizza restaurant comes in at just 170 calories.
Managing Macronutrients
The macronutrients in your diet are protein, carbohydrate and fat. Buffalo wings are predominantly protein- and fat-based, with carbs coming only from the sauce. Pizza, on the contrary, can be high in all three macronutrients. The crust is carb-dense because it's made with flour, whereas any cheese and meat toppings crank up the protein and fat content. You can lower the amount of fat by choosing lean meats or fish, low-fat cheese and vegetables as toppings, but the carbs will remain high.
Hoping for Healthier
You can make both pizza and buffalo wings a little healthier or diet-friendly with a few simple adjustments. The Eating Well website suggests using whole-wheat pizza dough, substituting in low-fat mozzarella and using veggies or even fruit on top. Another option is to use a tortilla for the base if you're making your own pizza. If you choose wings, Maggie Brooks of "Boston" magazine recommends baking or grilling rather than frying. Pat off excess fat before seasoning and cooking, and avoid using sugary sauces and marinades.
War of Nutrition
Some buffalo wings will be lower in calories, carbs and fats than pizza, but the nutrition provided by one or the other also depends on serving size. When purchased in a restaurant or as takeout, both pizza and buffalo wings are likely to be high in refined carbohydrates and unhealthy fats. A better option when you're craving these foods is to make your own at home so that you control exactly what goes into each.