More people around the world drink traditional tea, which includes black, green, oolong and white tea, than any other beverage aside from water, according to the Linus Pauling Institute. While each of these teas comes from the same plant, it seems that black and green tea may provide the most benefits to the bladder and kidneys. Talk to your doctor if you're concerned about bladder or kidney health – never rely on tea as a medical treatment.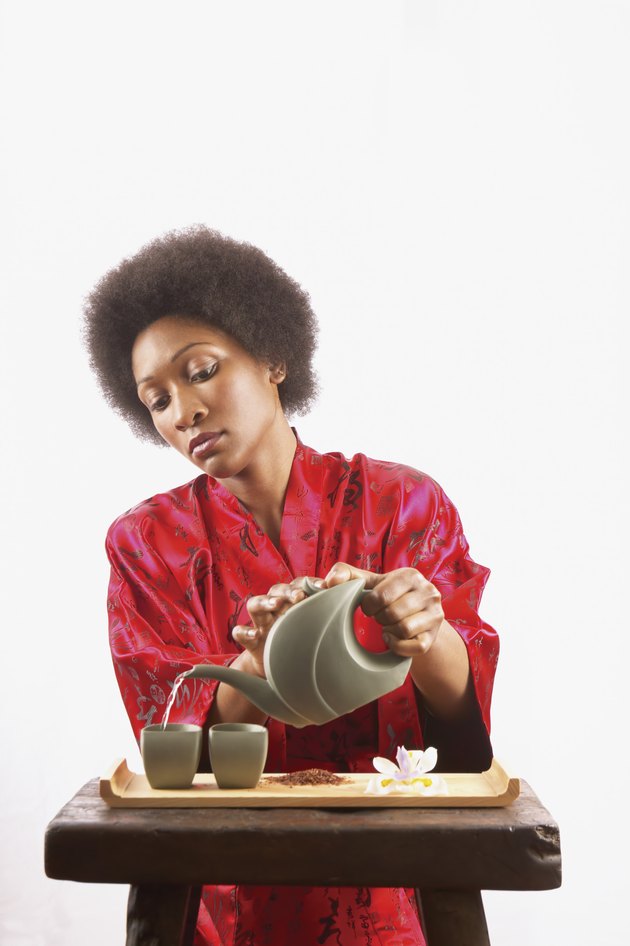 Tea and Bladder Cancer
Including green or black tea in your diet may help prevent bladder cancer. The University of Maryland Medical Center reports that women who drink black tea or green tea powder have lower rates of bladder cancer, while green tea may help prevent recurrence of bladder cancer in men.
It's not quite understood how tea may protect people from cancer, but LPI reports that it may be due to the effects that the flavonoids in the tea have on cell signaling.
Tea and Kidney Stones
According to LPI, risk of developing kidney stones decreases by 8 percent in women and 14 percent in men with every 8-ounce cup of tea consumed. However, LPI does not specify which type of tea, but green tea may be a good one to choose. A 2005 study in the Journal of Urology investigated the effects of green tea on kidney stone formation in Wistar rats, and found that the tea helped decrease calcium oxalate excretion and stone formation in the rats.
Herbal Tea for Overactive Bladder
Nine percent to 16 percent of the population have an overactive bladder, according to a 2013 article published in Reviews in Urology. An overactive bladder is a condition characterized by the frequency and urgency to urinate, as well as nighttime urination. Many people turn to herbal remedies as a mode of treatment, and while clinical studies are lacking, the authors of the article report that cornsilk and cleavers tea may provide some benefits. Consult your doctor before adding these teas to your diet.
Warning With Kidney Disease
If you have kidney disease, consult your doctor about whether it's safe for you to include tea in your diet. UMMC warns that people with kidney disease should not drink green tea. Additionally, while you may consider herbal teas a healthy option, they may contain substances that can cause more harm to the kidneys. The National Kidney Foundation advises to avoid all herbal supplements, which might include herbal teas.