Too much of a good thing is not always good, as the saying goes. A pescatarian diet includes fish but no other meat, along with fruits, vegetables and grains. The American Heart Association recommends you eat two servings of fish a week for heart health. Fish is a good source of protein and healthy fats, but eating too much may be bad for your health, increasing your exposure to pollutants and mercury.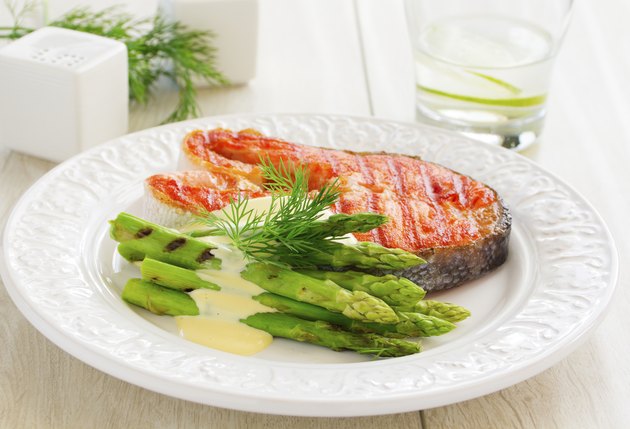 Exposure to Pollutants
Fatty fish, such as salmon and mackerel, as well as certain varieties of white fish including sea bass and halibut, contain low levels of certain pollutants that can build up in your body over time. Excessive exposure to these pollutants on a pescatarian diet increases your risk of cancer, diabetes and thyroid disease. Pregnant women who consume excess amounts risk having low-birth weight babies and developmental delays in their children. To limit your exposure to these pollutants, it is recommended that you limit your intake of these fish. Recommendations vary for different groups. Women and teens who are pregnant or who can become pregnant should have no more than two servings a week, with one serving equaling 5 ounces, and men, children and women who cannot become pregnant should limit their intake to no more than four servings a week.
Too Much Mercury
Fish also contain varying amounts of mercury, which is a natural element that fish process into a toxic substance called methylmercury . As a pescatarian, you may be increasing your exposure to the toxin. High intakes of this substance affects your nervous system and can cause severe developmental delays in infants exposed to mercury when in the womb. Due to the varying amounts of mercury in different types of fish, the recommendations on how much you can eat depends on the fish. For example, fish with low amounts of mercury include sardines, herring and tilapia, which you can eat without concern, according to the Natural Resources Defense Council. Fish with high levels of mercury, such as bluefin, chilean sea bass and yellowfin tuna, should be limited to no more than three servings a month.
Limited Food Choices
If you like your protein foods and fish is the focus of your meals, you may get bored eating the same type of foods over and over again. To improve the variety, as well as the quality, of your diet, include other nonmeat sources of protein. Good choices include beans such as chickpeas or black beans, soy foods such as tofu or tempeh and nuts and seeds. For example, instead of fish tacos, try a black bean burrito, or whip up a tofu stir-fry instead of shrimp. Swapping out your fish with these other nonmeat proteins may also decrease your exposure to pollutants and mercury.
A Pricey Protein
It's expensive to be a pescatarian. Compared to other nonmeat sources of protein, fish is significantly more costly. Prices for fish vary depending on where you buy your fish, time of year and whether you're buying fresh, frozen or canned, but fresh salmon can cost more than $10 a pound at the time of publication. By comparison, a package of tofu may be less than $5 and a can of beans less than $3.