Exercise is good for your muscles, inside and out. The digestive system includes multiple organs that connect in a long, winding path from your mouth to your anus, breaking down food and extracting nutrients along the way. Your digestive system and related organs contain a layer of muscle that must contract to move food through the system. Lack of exercise may inhibit these contractions and cause problems. Consult your medical doctor if you experience persistent digestive problems.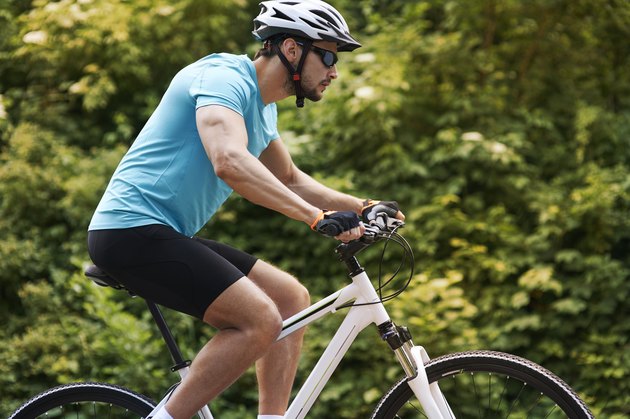 Blood Flow
Exercise increases blood flow, which aids digestion. Limited blood flow to your digestive organs may cause food to remain in your intestine for extended periods of time, leading to nausea, dizziness or fatigue. While exercise is good for your digestion, you should wait one to four hours after eating before you workout. During digestion, your body diverts blood to your digestive system. However, when you exercise, your muscles need additional blood flow, creating a conflict if you eat just before you exercise. This conflict can lead to potential discomfort. Delay exercise after a meal, waiting a full four hours after a large meal.
Gallstones
Exercise can reduce your risk of forming gallstones. Your gallbladder stores bile fluid, which contains substances that help you digest food. When your gallbladder is working properly, contractions expel bile fluid into your intestines. Inactivity can lead to weak contractions, allowing bile to build up and gallstones to form. In severe cases, the gallbladder must be removed surgically. Without a gallbladder, your liver secretes bile fluid directly into your intestine, which can produce chronic diarrhea.
Constipation
Lack of exercise may cause problems with digestion by inhibiting bowel movements, which causes constipation. Constipation occurs when waste material remains inside your intestine for three or more days, hardens and produces difficult or painful defecation. Exercise can stimulate intestinal activity, which moves waste through your digestive tract and prevents constipation. Abdominal exercises tone up abdominal muscles, which help propel your bowel movements.
Irritable Bowel Syndrome
Irritable bowel syndrome, or IBS, is characterized by discomfort associated with digestion, such as cramping, abdominal pain, bloating, constipation and diarrhea. Stress is a contributing factor to IBS. According to The National Digestive Diseases Information Clearinghouse, exercise reduces stress, which in turn decreases symptoms of IBS. Because of the strong link between exercise and IBS, researchers Johannesson et al. recommend physical activity as the primary treatment modality for IBS, according to their report in The American Journal of Gastroenterology: Physical Activity Improves Symptoms in Irritable Bowel Syndrome: A Randomized Controlled Trial.
Is This an Emergency?
If you are experiencing serious medical symptoms, seek emergency treatment immediately.