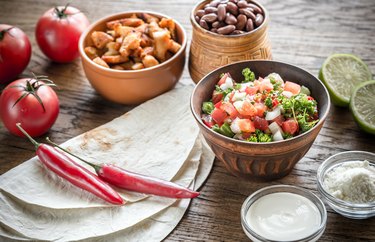 If you're a frequent visitor of the fast food chain restaurant Chipotle, you've probably at some point wondered just how healthy the Mexican-American style cuisine really is.
There's no black-and-white answer to this question, but by examining the ingredients, you can have a better understanding of what you're getting and thus choose the options to make your next Chipotle outing a healthier one. A calorie counter app is a great resource to help with this.
Sodium Content
Chipotle's sodium content could be considered one of its biggest downsides, at least when it comes to health. The rich flavor you experience when you bite into a Chipotle burrito will cost you somewhere in the neighborhood 2,000 milligrams of sodium, depending on the options you choose.
The Dietary Guidelines for Americans recommends a daily sodium intake of less than 2,300 milligram per day. Excessive sodium intake is linked to high blood pressure and heart disease. By consuming one Chipotle burrito, you've already come very close to your recommended sodium limit for the day.
Protein
One of the upsides to most Chipotle menu items is that they contain a healthy serving of protein. Whether you choose a burrito, a bowl, tacos or a salad, you have the option of adding your choice of chicken, steak, carnitas, tofu or barbacoa.
In addition, beans and rice are served with all orders. The amino acid profiles of beans and rice complement each other well, creating a second complementary protein to add to the mix. Chipotle menu items served with one protein, rice and beans come in at a solid 40 to 50 grams of protein.
Calories
Chipotle is not a low-calorie option for dining out. A Chipotle burrito with chicken, white rice, pinto beans, tomato salsa, lettuce, sour cream, cheese, guacamole and green salsa tips the scales at a hefty 1,180 calories. If you're a calorie counter, drop the tortilla and go with a bowl or a salad instead to save yourself 290 calories.
For the average adult who consumes around 2,000 calories a day, Chipotle may put you over your limit. You can lower your calorie intake at Chipotle by leaving out the cheese and sour cream, which combine for 250 additional calories.
Genetically Modified Ingredients
Genetically modified organisms or GMOs are a hot-button issue right now. Many health-conscious consumers want know if they're being served GMOs. Chipotle is one of the few restaurants that have met the public demand on this issue.
Its website lists all ingredients that have been genetically modified so those who want to avoid these foods are able to do so. GMO ingredients include the soybean oil used on chicken fajita vegetables, brown and white rice, steak, flour tortillas and the honey vinaigrette and corn products used in both corn and flour tortillas and tortilla chips.
Hydrogenated Oils and Preservatives
When you see the term hydrogenated oil on food packaging, it's likely that the food contains trans fat. Trans fat can increase your bad cholesterol, lower your good cholesterol and increase your risk of heart attack and stroke.
The only items at Chipotle that contain hydrogenated oil are the flour tortillas — both taco and burrito size. Artificial preservatives are also used in select Chipotle menu items. They include flour and corn tortillas, tortilla chips and pinto beans.
Healthy Options
You can create a Chipotle meal that excludes GMOs, hydrogenated oils and preservatives. The most detrimental ingredient at Chipotle may be the tortilla, which contains GMOs, hydrogenated oils and preservatives.
For health-conscious consumers, it may be wise to avoid burritos and tacos and instead choose a bowl or salad. Menu items that exclude trans fats, GMOs and preservative include barbacoa, black beans, carnitas, cheese, guacamole, each of the salsas, lettuce and sour cream.