Stair steppers are low-impact exercise machines that can help you burn calories and tone your muscles. Exactly how much weight you can lose exercising on a stair stepper 20-minutes per day varies from person to person. Factors include your age, metabolism, gender and current body weight. As you age, your metabolism slows, but exercise can help to increase it. Also, heavier people are able to lose weight more quickly than someone who may be just 5 lbs. overweight.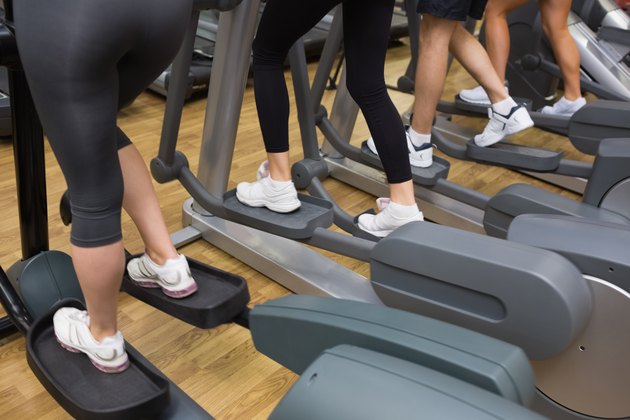 Understanding Weight Loss
The Centers for Disease Control and Prevention suggest losing weight by creating a calorie deficit of 500 to 1,000 calories per day to lose 1 to 2 pounds per week. The calorie-deficit concept means you are eating fewer calories than you are using. Your body is pulling from its fat storage cells for energy, so your weight is decreasing. Exercising on a stair stepper for 20 minutes a day can certainly contribute to your daily calorie deficit.
Calories Burned During Exercise
Since 3,500 calories is equivalent to 1 pound of fat, you can estimate your weight loss potential using your stair stepper machine for 20-minute workouts. A 125-pound person will burn about 132 calories per workout. Knowing that heavier individuals burn more calories than lighter people, it's no surprise that a 175-pound individual will burn 186 calories doing the same workout. Based on these figures, the 125-pound person burns 924 calories per week, and the 175-pound person burns 1,302 calories a week. That's equal to 0.26 and 0.37 pounds per week, respectively. These results are based on a seven-day workout schedule. The minimum amount of cardio exercise recommended by the CDC is a total of 150 minutes per week.
Building Muscle Increases Metabolism
A stair stepper machine doesn't just provide an effective cardiovascular workout, it also helps to strengthen the muscles in your legs, glutes and abdominals. This is important to weight loss because increased muscle helps your body burn more calories, helping you lose weight more quickly, even when you're not exercising. So, simply relying on your stair stepper's "calories burned" reading is not a totally accurate way to predict your weight loss potential.
Considerations
Hormone levels and metabolism play a role in the way your body stores fat and burns calories. Eating healthy and exercising can help to regulate the way hormones affect weight loss. Exercise intensity also impacts calorie burn. Exercising at a more vigorous pace compared to working out at a moderate pace for 20 minutes increases your calorie expenditure. In fact, the CDC states that 20 minutes of vigorous exercise is about the same as 40 minutes of moderate exercise. A simple test can let you know your workout intensity. If you can sing your favorite song, you're at a light intensity. If you can only speak the words of the song, you are working at a moderate pace. If you can only say a few words of the song before having to catch your breath, you are working out at a vigorous pace.