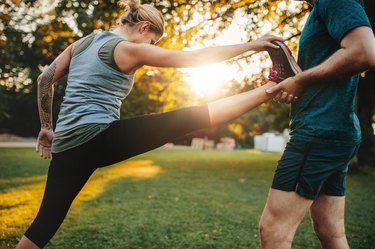 Hire a trainer to advance your fitness goals, whether that's to lose weight, get leaner, build muscle, perform better in a sport or build stamina. Personal trainers are fitness experts hired by fitness clubs, training facilities or private studios to help you achieve more in your workouts.
When you seek out a trainer's expertise, expect to pay for it. The cost for hiring a personal trainer is determined by a number of factors, including geographic region, trainer's credentials and the features of the training package.
One-on-one
The most common form of personal training is a one-on-one training session. Rates are typically based on a session per hour basis and vary according to the individual fitness club or training facility. You can generally expect to pay between $30 and $90 per session.
Trainers often offer different packages with a specific number of training sessions. As a general rule, if you purchase more sessions, the price per session decreases. For example, if you purchase three sessions, the price might be $50 per session. But if you purchase 12 sessions, the price might decrease to $35 per session.
Group Training
Some fitness enthusiasts enjoy working out with friends or training partners. As a result, fitness centers and personal trainers offer specific pricing for group training. The personal trainers typically offer a discounted rate for group training over one-on-one training.
The cost of personal training group sessions can drop to between $20 and $25 per person per session. Not only do the clients receive a decreased rate, the personal trainer can design a wide variety of workouts for the clients. You still get individual attention, but less than you might if you work with the trainer one on one.
Celebrity Trainers
Celebrity personal trainers training actors, singers and other public figures charge significantly more than the average personal trainers at fitness clubs. Generally, these celebrity trainers have a broad education, background and experience in working with high-profile clients. As a result, the prices for training with celebrity trainers such as Gunnar Peterson or Tony Horton can reach $15,000 for a six-week workout program.
Online Personal Trainer
With the development of the Internet, online personal training programs are now widely available. Most of the online personal trainers still provide customized workout programs without the hands-on training during the workouts. By eliminating the hands-on training, online personal training costs significantly less than traditional personal training.
For example, the Workouts For You online training website charges $16 to $45 per month depending on the training package with incentive packages for a one-year commitment. The online programs typically offer a 30-day money back guarantee.