There's no definitive proof that drinking alcohol can make you gain weight, according to Brigham and Women's Hospital. Likewise, you won't necessarily lose weight if you give it up. No matter what you eliminate from your diet in an effort to lose weight, the basic math remains the same: if you burn more calories than you consume, you will drop pounds eventually. However, with alcohol there are a few small complications to the equation.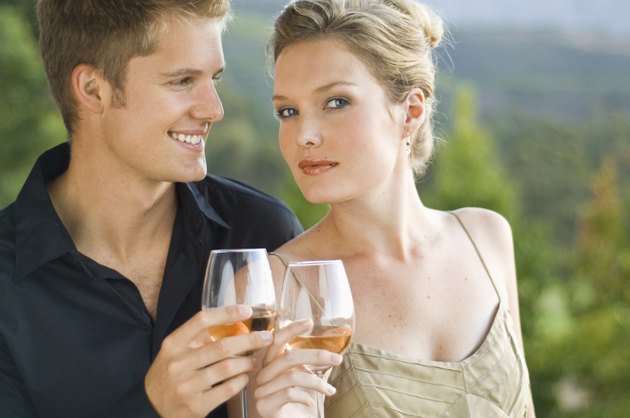 Calories in Alcohol
One gram of alcohol contains about 7 calories. This equates to approximately 110 calories in a bottle of light beer, about 80 calories in a 4.2-oz. glass of wine and about 55 calories per shot of whiskey or vodka. In theory, you can drink in moderation without totally crashing your diet calorie-wise. However, alcohol does interrupt your fat-burning and calorie-burning processes. When it's present, your body will burn alcohol for its energy before it burns anything else. When you drink, your body stops burning calories for awhile and burns the alcohol instead. This is temporary, however.
Influence of Alcohol
The greatest impact giving up alcohol might have on your weight loss is due to its impact on your body, not the calories you're consuming. Liquor spurs your appetite and it's not uncommon for people who have been drinking to eat more than they would otherwise. It also weakens willpower and changes your judgment. If you stop drinking, you might not be as prone to cheat on your diet, which might help you lose weight.
Impact of Exercise
You can give up drinking and still not lose weight -- or possibly even gain pounds -- if you don't burn more calories than you take in. Once your body has metabolized the alcohol content in liquor for energy, it doesn't care whether the calories it then resorts to come from alcohol or from food. If you factor the calories you've consumed through alcohol into your total daily intake, and if you then burn some of those calories away through a regular exercise program, you will lose weight.
Benefits of Drinking
Drinking alcohol can actually have some beneficial effects on your health, but only in moderation. It may combat some of the effects of heart disease and high blood pressure, and the study performed by doctors at Brigham and Women's Hospital found that women who drank in moderation were actually the least likely to gain unhealthy weight over time. Moderation is the key. If you only consume a glass of wine per day, it is unlikely to make you gain weight and it may actually help you keep weight off in the long term.
Putting It All Together
The amount of weight you lose when giving up alcohol depends on how much you drank in the first place, as well as your general activity level and diet patterns. Over a period of months and years you can lose anywhere from 1 to more than 100 pounds. Simply giving up one light beer a day will help you lose more than 11 pounds over the course of a year, provided you don't replace those calories with other foods. Adjust your daily calorie intake and energy levels to lose between 1 and 2 pounds weekly.