Although "healthy" probably isn't the first word that comes to mind when you think of soft drinks, beverage companies are increasingly offering products aimed at the health-conscious consumer -- and one of these is healthier sodas. While these "healthy soft drinks" are still sweet and fizzy like traditional soda, they may offer certain healthful advantages, such as: reduced or zero calories, natural ingredients, and/or added vitamins. However, before you assume a soft drink is healthy, check the nutrition label. Some sodas marketed as healthy drinks may have the same sugar content or artificial ingredients found in regular soda.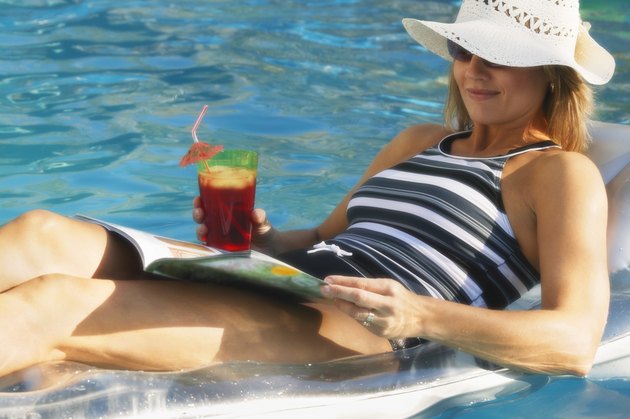 Diet Soda
Diet soda is probably the "healthy soft drink" that you're most familiar with. Diet sodas may be healthier than regular sodas in that they are sugar-free and virtually calorie-free. Diet sodas contain sugar-free sweeteners such as aspartame, saccharin, acesulfame potassium or sucralose. Because they don't contain sugar or calories, diet sodas may help with weight control and diabetes control. Furthermore, unlike the high fructose corn syrup used in most regular sodas, artificial sweeteners used in diet sodas don't contribute to dental decay. That said, diet soda contains no nutrients, and certain artificial chemicals in diet soda -- some of which are also found in regular soda -- may potentially carry some cancer risk.
Natural Sodas
So-called "natural" soft drinks are another type of soda marketed as healthy. Soft drinks labeled as "natural" might be sweetened with cane sugar or fruit juice rather than with chemically processed sweeteners like high fructose corn syrup or aspartame. Other soft drinks with "natural" on the label may still contain high fructose corn syrup, but also contain some natural ingredients. Although many people equate "natural" with "healthy," there is, as of yet, insufficient evidence to prove that naturally occurring sugars are any healthier than high fructose corn syrup or that the artificial chemicals in soft drinks are harmful to health. Moreover, any type of added sugar, when consumed in excess, can lead to weight gain, diabetes, dental cavities and other health problems.
Vitamin-Fortified Sodas
Some diet and nondiet sodas contain added vitamins, minerals or antioxidants. For example, one major soda company debuted a soft drink in 2007 fortified with vitamins B-3, B-6 and E, and the mineral chromium. Also in 2007, another soda-pop giant unveiled a variation of its most popular diet soda brand, fortified with vitamins B-6 and B-12, niacin, magnesium and zinc. Yet another major soda company offers an "antioxidant" version of a popular brand, in both diet and nondiet versions, which is fortified with 10 percent of the daily recommended intake of vitamin E. While these vitamin-fortified soft drinks might be better for you than regular soda, it is healthier to get your nutrients from foods.
Considerations
While some "healthy" soft drinks may offer certain nutritional advantages over regular soda, water remains the healthiest beverage choice. Low-fat milk, 100-percent fruit juice, tea and coffee are also healthier alternatives to soda, when enjoyed in moderation. If you do drink soda, it is healthiest to do so only in moderation -- even if the soda is sugar-free or sweetened with natural sugar. According to the Harvard School of Public Health, if you were to drink one can of sugar-sweetened soda every day, you could gain 15 lbs. in one year. Additionally, while diet sodas have the advantage over regular soda of being sugar-free, the long-term health effects of artificial sweeteners are not known.