Cessation of the menstrual period because of excessive exercise or weight loss is secondary amenorrhea. This can be the diagnosis if you have missed three or more menstrual periods after having experienced at least two regular cycles. This condition presents itself much more frequently in female athletes compared with the general female population.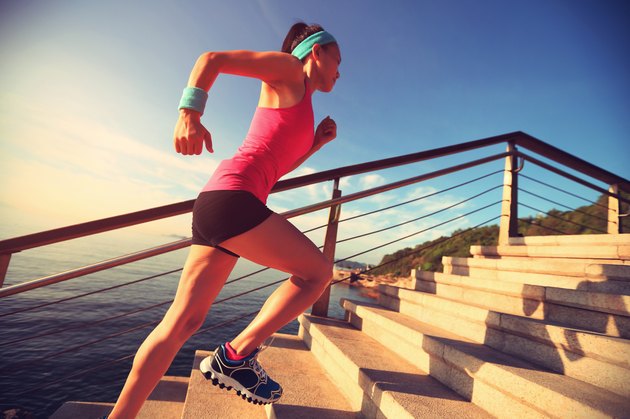 Weight Loss and Amenorrhea
While you might think of fat as inactive globs of matter, fat cells perform many important functions, including producing estrogen and other hormones necessary for ovulation and menstruation. MedlinePlus says having less than 15 percent to 17 percent body fat can increase your risk of amenorrhea. Your body also needs adequate levels of protein, and if your weight loss efforts have reduced the amount of protein eat or you lose other bodily mass besides fat, this also can contribute to cessation of the menstrual cycle.
Excessive Exercise and Amenorrhea
Besides the weight loss triggered by exercising heavily, high calorie expenditure and the physical stresses imparted on the body during physical activity also can affect your menstrual cycle. Sports medicine specialist Dr. Carol L. Otis says an interruption in the hormonal signals from the hypothalamus gland to the ovaries might account for exercise-induced amenorrhea. Instead of sending signals for the production of hormones necessary for menstruation, this master gland directs its attention to providing the body with energy. No official threshold exists for determining what constitutes excessive exercise as it relates to this condition and can vary between individuals.
Dangers
Otis explains that women with amenorrhea have been found to have reduced bone density, which increases the risk for fractures and the development of osteoporosis later in life. If prone to amenorrhea, Otis advises you to supplement with 1,500 mg of calcium daily to preserve bone density. She says research looking at bone density levels of athletes who experienced amenorrhea found that while their bone mass increased, they never got back to the levels of athletes who never experienced this problem, suggesting this condition causes permanent bone loss that you cannot fully reverse.
The lack of a period does not preclude the need for birth control. Ovulation can occur even in the absence of a period. Failure to protect yourself could result in unplanned pregnancy.
Treatments
To reverse this problem, reduce exercise to a less intense level and get yourself to a healthy weight, explains MayoClinic.com. Otis recommends athletes who suffer from this condition reduce their training by 5 percent to 15 percent and to increase caloric intake by 5 percent to 20 percent to put on two to 10 lbs. Your doctor can offer guidance on diet and exercise. If your periods do not resume in six to 12 months, you might require hormone replacement; consult your doctor. The University of Maryland Medical Centers says some natural supplements might help but do not have strong research to back up effectiveness for this particular condition. They include the essential fatty acid evening primrose oil, herbs known to normalize female hormone levels such as black cohosh, licorice and squaw vine. Consult with a health care provider experienced in using natural therapies if you have an interest in using natural medicine for amenorrhea, and tell your doctor about any supplements you take.