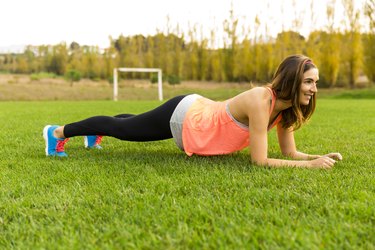 Well-defined abs can complement your favorite bikini or form-fitting dress. Creating a beginner core workout can be a challenge if you don't know where to start. Training your abs doesn't have to mean performing a countless number of crunches or complicated exercises. Perform exercises that activate each muscle in the midsection to effectively work the abs and core.
Doing bicycles recruits the abs while targeting the obliques. Lie on your back with your right knee bent and left leg extended. Elevate the feet off of the ground and place your hands behind the head to prevent straining the neck. Lift the shoulder blades off of the floor and twist your left shoulder toward the right knee. Switch sides while twisting the right shoulder toward the left knee with the right leg extended. Alternate sides for four sets of 25 repetitions.
Leg raises engage the abdominal muscles. Begin on your back with the legs extended and hands, facing palms down, under your sacrum. Raise both legs at once toward the ceiling until they are perpendicular to the floor. Repeat the maneuver up to 10 times.
V-ups activate the core muscles, including the abs, obliques and lower back. Start seated on the ground with your knees bent and feet elevated. Place your hands beside the hips. Lower the torso back to 45 degrees while extending your legs above the ground. Lift the upper body and bring your knees into the chest, returning to the starting position. Repeat the exercise for four sets of 25 repetitions.
Planks work the core while stimulating the shoulders for stabilization. Begin in a pushup position and lower your elbows to the ground, supporting your upper body with your elbows and forearms. Tighten the abs to support the spine and avoid arching your back. Maintain a static hold for 30 seconds. Repeat for four 30-second sets.