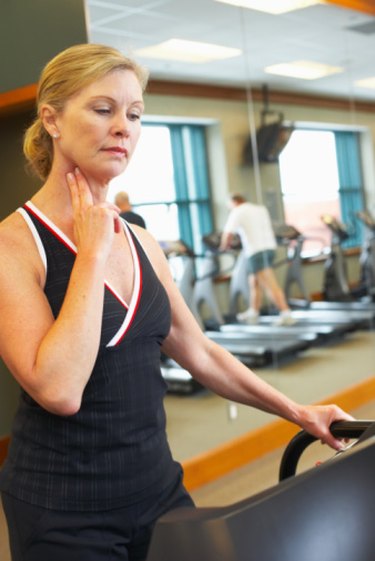 When devices such as cycling computers and heart rate monitors use the same technology, it's possible to utilize a monitor from one company and a computer from another. However, not all technologies are compatible, so if you want to sync devices from separate manufacturers, it's best to check whether the combination you're considering will work before you buy. For example, the Polar heart rate monitor won't work with a Garmin Edge.
Technology
Garmin products such as the Edge GPS-enabled cycling computer use ANT+ technology. ANT+ technology uses wireless sensors to gather data such as heart rate, speed, distance and cadence. ANT+ is designed so you can use your products, including heart rate monitors, without interference from other nearby devices. Polar products, including heart rate monitors, use different technology developed by Polar that's incompatible with ANT+.
ANT+
You can use any heart rate monitor that features ANT+ technology with the Garmin Edge. The options are numerous, including the Adidas miCoach heart rate monitor, Geonaute monitor and the Athlosoft ERGOHR monitor. You also may use monitors included in many Bontrager, Blackburn, CycleOps, Concept2 and Beurer products. You also may use a monitor that came with another Garmin product, like the Forerunner series.
Polar
The technology in Polar heart rate monitors is compatible with numerous products as well. These include the Nike+ product line and others that utilize 5 kilohertz transmission technology. Polar heart rate technology also is often found in commercial cardiovascular training equipment, such as many treadmills at your local gym. In fact, the company has 250 manufacturing partners that integrate the Polar technology into its products.
Considerations
Not all products that use ANT+ technology are incompatible with Polar technology. For example, the Concept2 PM4 Performance Monitor utilizes ANT+ but also is designed to support Polar technology. Garmin Heart Rate belts that support ANT+ technology are included in the PM4 package, however.