Your paraspinal muscles run next to your spine to support it. You have numerous small, individual paraspinal muscles that help control movements between your vertebrae and the rest of your bones.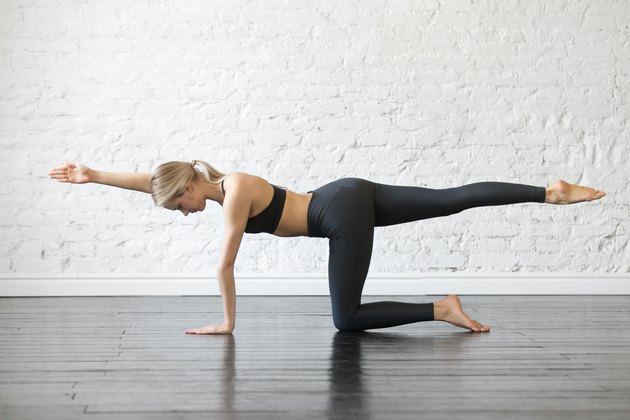 Strengthening your paraspinal muscles with specific exercises can help stabilize your spine, prevent back pain and other common back injuries and improve your range of motion.
1. Prone Leg Lifts
Prone leg lifts can help improve strength in your paraspinal and other lower back muscles, according to Daniel K. Resnick and Regis W. Haid in their book, "Surgical Management of Low Back Pain."
Lie on your stomach with your arms by your sides and your legs straight out behind you. Slowly lift one leg a few inches off the ground, then gently lower it. Repeat this motion using the opposite leg. When your strength improves, you should be able to perform this exercise by raising both legs simultaneously off the ground.
2. Posture Exercises
Performing specific posture exercises can improve your posture by strengthening your paraspinal muscles. One exercise to help improve your posture is the pelvic tilt. Stand with your feet shoulder-width apart.
Place your thumbs on your rib cage and your fingers on your hip bones. Relax your posture and allow your buttocks to stick out. Tuck your pelvis forward so that your hip bones line up with your rib cage. Hold for a few seconds, then release.
3. Cobra Pose
The cobra pose is a spine-stretching and strengthening yogic posture. Lie on your stomach with your palms flat on the floor next to your shoulders and your elbows bent.
Press firmly into the floor with your palms and straighten your arms as you raise your head, neck, shoulders and upper torso off the ground. Expand your shoulder blades and chest and look forward. You should have a slight arch in your lower back. Hold this pose for a minute, then release to your starting position.
4. Wall Slides
Stand with your back against a wall and your feet slightly wider than shoulder-width apart. Place the palms of your hands against the wall. Bend your knees and slowly lower your body down, using the wall for support. Lower down to a 90-degree angle with the floor. Hold the pose for five seconds, then slowly return to standing.