If you're severely lactose intolerant, you probably find yourself using great caution before eating anything that may contain lactose. Baked goods are a common food that contains lactose but is often overlooked because it's not dairy-based. Most baked goods are made with milk or milk solids that contain lactose and can trigger lactose-intolerant symptoms. If you are unsure if a particular baked good will cause symptoms in your digestive system, perform a challenge diet to find out.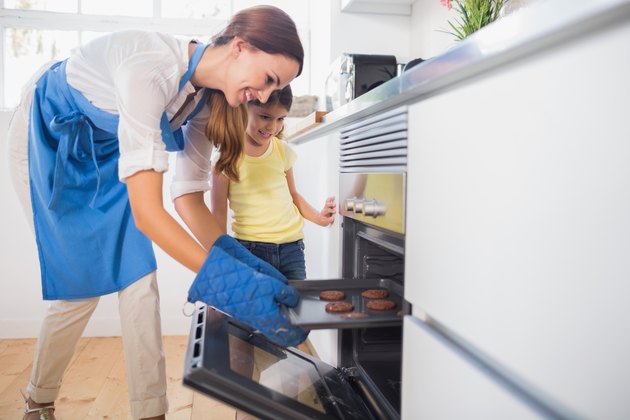 Lactose Intolerance
Lactose intolerance occurs when you cannot digest the sugar found in milk, as explained by the Cleveland Clinic. Lactose is found in cow's milk, goat's milk, human milk and sheep milk. Almost every sugar you ingest needs enzymes to break it down so the body can absorb it. Lactase is the enzyme that helps the body digest lactose. During early childhood, your intestines produce large amounts of lactose because the majority of your diet is based on milk. As some people age, they produce less lactase, which causes the intolerance.
Baked Goods
Not all baked goods contain lactose, depending on the type of baked good and the manufacturer. Breads that are made without milk, such as French and Italian breads, do not contain any lactose. Macaroni, cereal without milk and rice cakes are all typically dairy- and lactose-free. Certain baked good may contain lactose, such as muffins, biscuits, rolls, breads, cookies, pastries and pancakes. If you're unsure, read the products label and look for whey protein, milk, lactose and dry milk in the ingredients.
Challenge Diet
A challenge diet can help you determine how much of a particular baked good you can tolerate. Just because a baked good is made with milk doesn't mean that you will develop symptoms. The level of intolerance can fluctuate from person to person and can change over time. For example, if you want to see how much bread pudding you can tolerate, remove all lactose-containing products form your diet for three days. After the three days, eat 1/2 cup of bread pudding and document any symptoms. The next day eat 1 cup of bread pudding and document the results. Continue to increase the amount of bread pudding by 1/2 cup daily until you notice symptoms or you reach a normal single portion.
Consideration
Lactose intolerance is not the same condition as a milk allergy, according to Food Allergy Research and Education. A milk allergy is more serious condition that requires that you avoid all dairy products. If you've been diagnosed with a milk allergy, you must avoid all foods that contain milk protein.