Nutmeg is a spice used in cooking. This spice is also abused by teenagers or adults who want to get high. Several teaspoons to 2 tbsp. of nutmeg can produce a high, notes Health Services at Columbia University. Eating this spice to get high can cause a wide range of serious side effects. Symptoms arise about 30 minutes to three hours after eating nutmeg. The effects can linger for a day or two.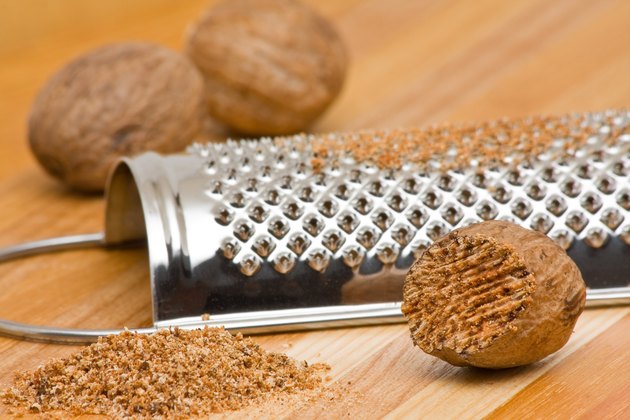 Nausea, Stomach Spasms and Vomiting
Eating nutmeg creates a short period of feeling high. The sensation of being high is typically accompanied by numerous unpleasant side effects. The nutmeg causes a feeling of nausea and stomach spasms. The stomach queasiness is often followed by vomiting, notes Health Services at Columbia.
Psychotic Episode
Going into shock can occur after eating nutmeg. Another side effect of eating this spice is experiencing a psychotic episode, which can cause out-of-control behavior. The myristicin in nutmeg also causes euphoria and vision changes, notes WSBTV.com. If you experience these dangerous side effects after eating nutmeg, contact your doctor immediately or go to the emergency room.
Dry Mouth and Fever
A dry mouth and a fever are other effects of eating nutmeg. These effects can be sporadic or can continue for several days. A fever while high can cause dehydration due to a lack of concern about the temperature increase.
Heart Palpitations and Flushing
Heart palpitations often occur after eating nutmeg to get high. Dr. Gaylord Lopez, director of the Georgia Poison Center, told WSBTV.com that nutmeg causes the heartbeat to increase and the facial skin to flush. The heart palpitations can spark an episode of an undiagnosed heart problem to occur. Thus, eating nutmeg can lead to a fatal cardiac event.
Hallucinations and Sensation of Doom
A sensation of doom can occur simultaneously with hallucinations, notes the Health Services at Columbia. These serious side effects require immediate medical care. It is important you tell the doctor that you have eaten nutmeg and how much.