No matter what the diet, to lose weight you need to eat fewer calories than your body burns. A vegetarian Indian diet makes a good choice as far as diets go because it is filled with foods that are rich in nutrients and high in satiating fiber. But, if you're not careful, you can still overdo it with calories. Knowing the ins and outs of a vegetarian Indian diet can help you achieve the weight loss you desire while eating foods you enjoy.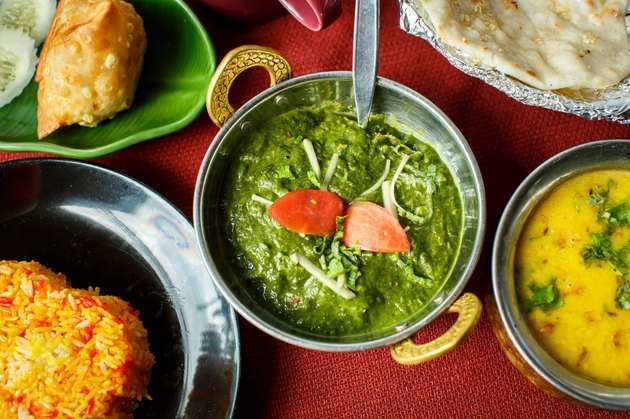 Indian Vegetarian Diet Basics
The vegetarian Indian diet is composed of fruits and vegetables; cereal grains such as rice, wheat and corn; milk and milk products; pulses or dals such as peas, beans and lentils; and nuts and oils. When trying to lose weight, fill your diet with low-calorie Indian vegetables, such as cauliflower, spinach and mustard leaves. Fruits, whole grains -- such as brown rice and whole-wheat chapati -- and pulses also make good choices on your weight-loss diet because they are high in fiber, which helps with appetite control. Use low-fat or nonfat milk products, and limit your intake of nuts and oils to reduce calorie intake.
Flavor Up With Spices
When you think of Indian cuisine, you may automatically think about curry, which is a blend of many different spices. These spices are as important in an Indian diet as the food itself. They add flavor and color to food without adding any calories, making them a good choice on your weight-loss diet. They also make a good replacement for salt, which helps keep sodium intake low. Commonly used spices include turmeric, fenugreek, cardamom, cloves, coriander, mustard, ginger, garlic and cumin.
Health Benefits
A healthy, well-balanced Indian vegetarian diet not only helps promote weight loss but also offers a number of health benefits. A vegetarian diet is associated with low blood pressure, low cholesterol and lower rates of heart disease. It may also help lower your risk of cancer. Additionally, one of the main ingredients in curry -- turmeric -- may be beneficial to those with Alzheimer's disease, according to a 2012 study published in "Ayu." It is important to note, however, that this study included only three patients, and they were given turmeric supplements. When consumed as part of your diet, turmeric may also offer anti-inflammatory and antibacterial benefits, according to the text "Herbal Medicine: Biomedical and Clinical Aspects," although the authors say more research is necessary.
Tips for Trimming Calories
Not all foods on the Indian vegetarian diet make good choices when trying to lose weight. Many foods are prepared with ghee, which is clarified butter, or fried. Omitting ghee, with 50 calories per teaspoon, and fried foods, such as vegetable samosas with 260 calories in each, from your diet can help keep calories under control. You also want to eat curries made without cream or coconut milk and plain fragrant rices instead of fried rice to save calories.