Tetley is a British company that has sold tea since 1871. Tetley offers several blends of black and green teas in both regular and decaffeinated varieties. The iced tea blends are formulated to minimize cloudiness upon refrigeration. Tetley tea is low in nutrients you may wish to limit, such as calories, fat and sodium, while rich in healthy antioxidants. Adding milk or a sweetener will contribute additional calories and nutrients.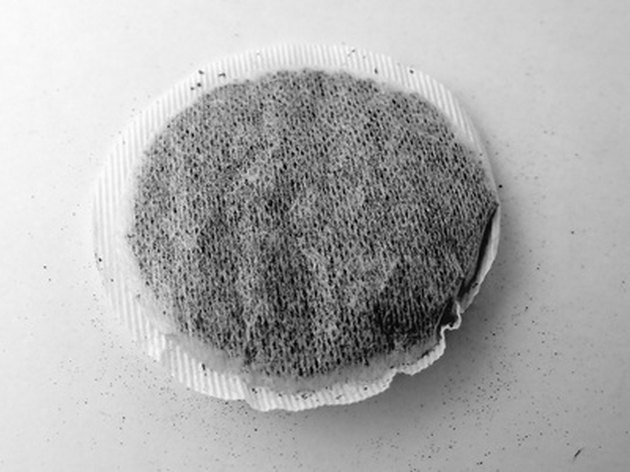 Nutritional Content
Tetley Classic Blend and Decaffeinated Classic Blend are signature blends of black tea. Tetley also offers regular and decaffeinated versions of its British Blend black teas. These premium teas are especially high in healthful antioxidants. Tetley sells green tea and special iced tea blends. The unsweetened brewed teas do not contain any calories, fat, carbohydrates, protein or vitamins. A serving of tea does not contain any sodium, gluten or monosodium glutamate. Kosher teas display a K symbol on the packaging.
Milk and Sweeteners
Adding milk and a sweetener to Tetley tea contributes calories, carbohydrates, protein, vitamins and minerals and may add fat, depending on the type of milk you use. Stirring 1 tsp. of sugar into Tetley tea adds 15 calories and 4 g of carbohydrates, all in the form of sugar. Mixing in 1 cup of 1 percent milk adds 110 calories, 2.5 g of fat with 1.5 as saturated fat, 10 mg cholesterol, 120 mg sodium, 13 g carbohydrates with 12 g as sugars, 8 g of protein, 10 percent of the recommended daily value of vitamin A, 2 percent of daily value of vitamin C, 30 percent of the value for calcium, 25 percent of the value of vitamin D and 4 percent of the value of folic acid.
Caffeine
Caffeine is a stimulant that naturally occurs in tea leaves and tea. Tetley reports a typical 8-oz. cup of its green or black tea that has been steeped for three to five minutes contains between 40 mg and 50 mg of caffeine. A cup of decaffeinated tea contains approximately 4 mg to 6 mg of caffeine.
Antioxidants and Health Benefits
Green tea and black tea both contain antioxidants, although the specific compounds and quantities differ between the types of tea. Tetley's Classic Blend tea contains 156 mg of antioxidants per cup, while the decaffeinated Classic Blend has 90 mg of antioxidants per cup of tea. There are 160 mg of antioxidants in the regular Pure Green tea and 48 mg of antioxidants in the green decaffeinated blend. The British Blend has 200 mg of antioxidants per cup, while the British Blend Decaffeinated contains 90 mg of antioxidants per cup. According to Tetley, there are more than three times more antioxidants in a cup of British Blend tea than in a serving of orange juice. Research gathered by the Tea Association of the United States of America indicates the antioxidant flavonoids and other compounds in tea may help prevent osteoporosis, dental caries, stroke, heart attack, kidney stones and certain types of cancer.