What you drink throughout the day can have an impact on how much urine you excrete, but what you eat can also influence its color. Eating beets can change your urine color to a pink or red tinge, so don't be alarmed if you notice an unusual hue. However, if you pass pink or red urine when you haven't eaten beets, talk to your doc.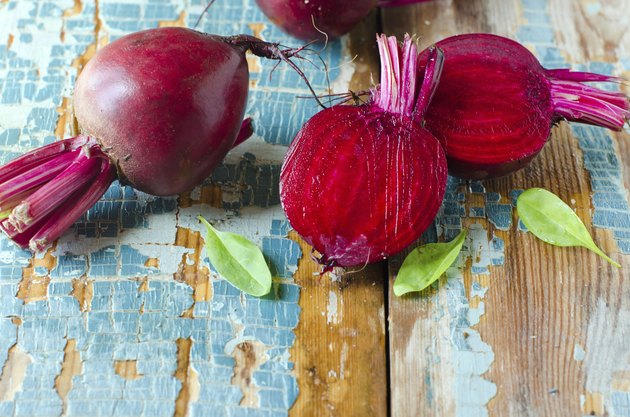 What's Normal for Urine Color and What's Not
Straw-yellow is the normal color for urine, according to the MedlinePlus website. The exact yellow hue of your urine depends on how much fluid you consume during the day; less fluids results in darker yellow urine. Urine can also become a darker yellow or orange color if you consume large amounts of B complex vitamins or carotene or if you take certain medications, such as warfarin. Artificial colors in food can cause blue or green urine, and milky urine is usually because of a urinary tract infection or other bacteria in the urine.
Beets and Urine Color
If beets do change your urine a different color, it's referred to as a condition called beeturia, which is harmless, according to John H. McDonald writing for the University of Delaware. This can be alarming, however, because the beets can make it look like there is blood in the urine. Not everyone will experience a change in urine color after eating beets. The exact pink or red hue of urine after eating beets can vary from person to person, as well.
How Beets Cause Urine Color Changes
The compound in beets that's responsible for changes in urine color is anthocyanin, according to the Stanford School of Medicine. Anthocyanin is a color pigment that gives beets their vivid red color and can be excreted in urine, turning it red. Betalain is another color pigment in beets that can be excreted in urine, according to a 2011 article published in the "Journal of Current Surgery." While beeturia itself is benign, excreting red or pink urine after eating beets can be caused by a deficiency in iron metabolism.
When You Actually Need to Worry
If you've eaten beets recently, chances are your red urine is because of that. If, however, you haven't eaten beets, discovering red or pink urine warrants an immediate call to your doctor. The presence of red blood cells in your urine can cause it to look red and can be caused by kidney or renal system problems. A urinary tract infection, urinary stone or other urinary disorder can also cause red or pink urine. Chronic lead or mercury poisoning are additional conditions that can cause red or pink urine.