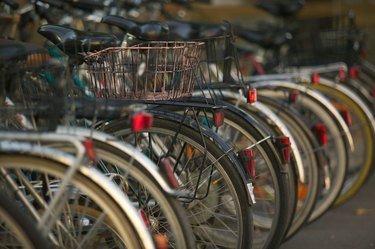 Riding a bike is an excellent cardiovascular workout, targeting large muscle groups with minimal impact on your joints. If you are overweight, cycling might be recommended to help you lose weight. If you weigh more than 300 pounds, consider a hybrid or mountain bike. These have larger tires and thicker wheels that can hold up longer under pressure. You can still fit these wheels with smooth tires to ride on the road.
Mountain Bike Wheels
Mountain bikes are made to withstand impacts of rocks, roots, jumps and drops without compromising integrity. If you weigh 350 pounds or more, choosing a mountain bike with a quality, rugged wheelset is ideal, particularly if you want to ride cross-country or off-road. All-mountain and downhill wheelsets are typically wider and more durable than road, cross-country and general trail riding wheels. Mountain bike wheels can also be fitted with smooth, road tires for less friction when riding on pavement.
Spokes and Thru-axles
The amount of spokes on a wheel affects its durability; the more spokes it has, the stronger it will be. Look for wheels with at least 32 spokes, preferably more for the back wheel. Most wheels are bought in sets, however, so purchasing four wheels altogether can be expensive. Another factor to consider for durability and weight limit is they type of axle a wheel has. A thru-axle is sturdier and more durable than a quick-release axle, and is typically used in the front on all-mountain wheels and in the back on downhill bikes.
Industry Nine/Stan's All-Mountain
Earning 4 out of 5 stars from the editorial staff at "Bicycling", the Industry Nine All-Mountain wheelset features 32 large-diameter aluminum spokes and a 26 mm wide rim. The wheels were found to be "very stiff" -- among the stiffest sampled -- but allowed enough give to prevent bad handling. After hard use, the reviewers found the spokes kept tension, the wheels remained true and the bearings kept quiet. This is a more expensive wheelset, coming in at upwards of $1,000 as of 2013.
Azonic Momentum DH
A downhill tire built for punishment, the Azonic Momentum DH boasts 36 spokes per wheel and possesses a whopping 43-mm-wide rim. Given 5 out of 5 stars on Mtbr.com, this wheel features a thru-axle and accommodates up to 3-inch-wide tires. This wheelset can support you, regardless of weight, through any terrain without compromising its frame. Costing about $180 per wheel as of 2013, you can purchase just one or spring for two if you need a full set.