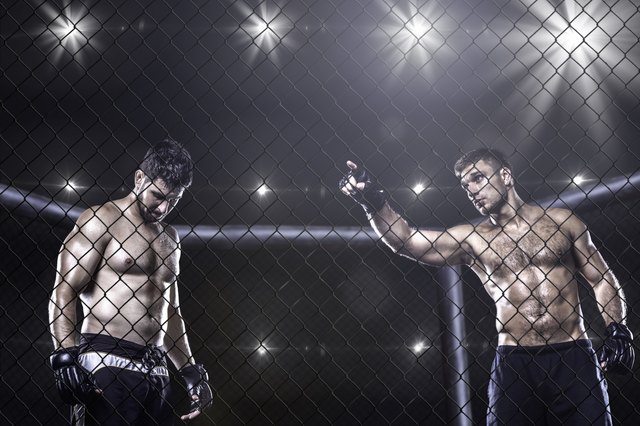 When MMA -- or mixed martial arts -- fighters go to combat, the amount they weigh is an important factor for many reasons. Just as in boxing and wrestling, there are weight classes. If you come in above your weight class, you are fined. If you come in under, you run the risk of the disadvantage of being outweighed. Cutting weight is not the same as losing weight. Cutting involves losing mostly water to make a weight limit. If you are "cutting weight" for a fight, you are not losing 30 pounds, you are cutting back 10 to 12 pounds. Cutting weight can be very dangerous if not done properly. The main physical threat is dehydration and in extreme cases, the possibility of heart attack or kidney failure. If you are going to drop 30 pounds for a fight, that will require losing weight and cutting weight. Losing involves cutting caloric intake and increasing energy expenditure to burn body fat. Either way, the methods are meticulous and very important to the sport of MMA.
Caloric Intake
A fighter's weight is directly affected by the calories consumed throughout the day. To lose weight, there must be a deficit in calories consumed compared to calories expended. To find out how many calories are needed to cut out of their diets, fighters monitor their intake closely. In order to lose one pound of fat you would need to burn 3,500 calories. An effective way to do that safely is to cut 500 calories from your diet each day, according to the National Institutes of Health. With that method, you would lose about 1 pound per week.
Sweating
Another method fighters use to decrease weight is to sweat out fluid, which is a temporary weight loss effect that can be useful before a weigh-in. This can be done by running, jumping rope, and cardiovascular circuits that involve the techniques used in a fight. In addition, athletes commonly use plastic suits and heavy clothing to increase their body temperature. A sauna can also be a powerful tool for sweating out water weight. These methods should be monitored to prevent overheating. Athletes can actually die or risk permanent injury by abusing these practices.
Fluid Restriction
Your body is constantly losing fluid through breathing, sweating and urination. Restricting fluid intake can help a fighter lose up to five or six pounds in 24 hours. The athlete begins by consuming 2 gallons of water a day for the first three days before a weigh-in. The increased intake of water triggers the body to excrete more urine than usual. The day before the actual weigh in, the fighter cuts the fluid intake down to minimum, restricting himself to simple sips throughout the day, and he also cuts out sodium from the diet. It should be noted that the fluid consumption is cut back, but the body is not deprived completely. To do so could damage the fighter's health.
Training
The final component in weight loss is training. MMA fighters do sport-specific training that engages the larger muscle groups such as the legs and the back. They will train the explosive fast-twitch muscles and do aerobic conditioning. An example of a basic MMA fighter weighted circuit comes from former UFC Champion Randy Couture. He includes bent rows, upright rows, military press, good mornings, lunges, squats, and deadlifts. This type of training will effectively burn calories, pulling the excess weight off. The lean muscle mass developed through the training helps to maintain the weight loss.