Brown rice is a diet staple for a reason — it's healthy, easy to prepare and endlessly versatile in the kitchen. Simply eating brown rice for weight loss without making other changes to your diet might not help you lose a lot of weight, but it does have some demonstrated weight-loss benefits. Serve brown rice as part of healthy, diet-friendly meals in a calorie-controlled diet, and follow a regular exercise routine for long-term weight- loss success.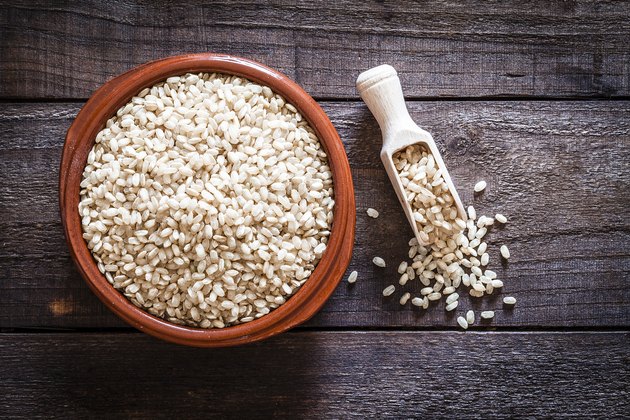 Tip
Brown rice is higher in fiber than white rice, which can contribute to your success at weight loss. Additionally, brown rice offers more nutritional benefits than white rice.
Brown Rice Calories
When you're trying to lose weight, the results you get are determined by calories in vs. calories out, and you'll get the best results by making sure they're quality calories. When you eat fewer calories than you burn, you start burning fat to make up the difference, so you'll lose weight. Brown rice isn't exactly low in calories, but it can still add nutritional value to a calorie-controlled diet.
A cup of cooked brown rice has 248 calories — about the same as a cup of cooked white rice — which is about 16 percent of your calorie "budget" on a 1,500-calorie weight-loss diet. It's slightly higher in calories than quinoa, which has 222 calories per cup, according to the USDA.
Weight Loss Benefits From Fiber
Part of the benefits from brown rice nutrition on weight loss is thanks to its fiber content. While making multiple lifestyle changes is best for weight loss, just eating more fiber will help you reach your goals, reported a 2015 study in the Annals of Internal Medicine.
The authors compared the weight-loss benefits of the DASH diet — a healthy diet aimed at promoting cardiovascular health — to the weight-loss benefits of just eating more fiber, without any other diet changes. While the study subjects who followed the DASH diet lost the most weight, the ones who simply ate more fiber still lost a significant amount of weight. You'll need to eat 30 grams of fiber daily to see health benefits.
Brown Rice and Weight Control
Brown Rice Serving Tips
Brown rice is often served plain, as a healthy-but-boring side dish — but you don't always need to serve it that way. Mix your brown rice with lemon juice and basil and mint chiffonade for a more flavorful side, or make a mini grain salad by mixing in a spoonful of cranberries and chopped walnuts, then topping your rice with an orange and balsamic vinaigrette.
Use brown rice as a base for grain bowls, and top it with black beans, toasted corn, red peppers, tomatoes and avocado for a healthy, Tex-Mex-inspired dinner. Add a handful of cooked brown rice to your favorite vegetable soups to infuse them with more complex carbohydrates for long-lasting energy.