The flat bench press exercise is one of the most common exercises that is performed in the gym to strengthen chest muscles. However, over-training and/or improper form and technique can lead to sore shoulder joints, which might lead to plateaus in your progress or injuries. Identifying and changing your technique and strengthening weaker muscle groups can reduce shoulder pain during chest workouts.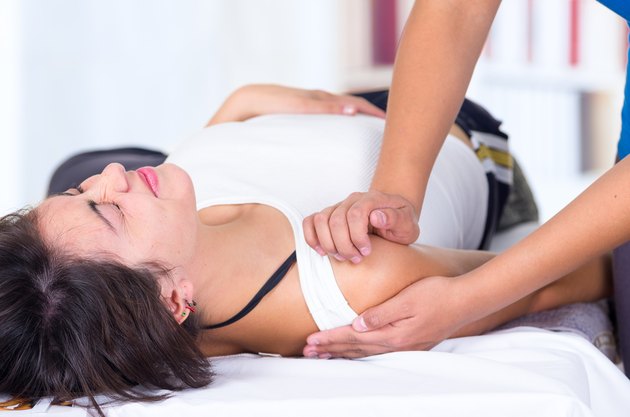 Technique
Hand placement during the bench press can play a role in shoulder pain, especially as the load increases. The heavier the weight and the closer the weight comes to the midline, the more stress on the shoulder joint, notes Dr. Jon Greenfield of the Center for Orthopedic and Sports Excellence. Placing your hands on the bar greater than shoulder width apart will decrease the stress on the shoulder joint.
An Alternative
An incline bench press is an alternative to the flat bench press to reduce the stress on your shoulder joint. The angle provided by the incline reduces the torque on on your shoulder joint while still working your chest. Like the flat bench press, an incline press targets your pecs and can be done with either dumbbells or a barbell.
Rotator Cuff
The rotator cuff consists of four small muscles in the shoulder joint: teres minor, infraspinatous, supraspinatous and subscapularous. The rotator cuff muscles work together to stabilize the shoulder joint during bench press movements. Shoulder pain while bench pressing is likely due to weakness in the rotator cuff muscles. Weak muscles are often, but not always, the cause of rotator cuff impingement syndrome and associated rotator cuff tears. Using a very light dumbbell or cable pulley resistance, perform rotator cuff exercises one to two times a week using exercises such as internal rotation and external rotation for three sets of 10 repetitions.
Stronger Back
Focusing more of your training on strengthening your back can not only improve your chest workouts, but also your posture and prevent shoulder problems. Balance your chest workouts with back workouts by doing two to three back exercises for every one chest exercise. This can be accomplished in the same workout by performing two back exercises for every one chest exercise, or by performing your back training on a separate day. Effective back exercises to complement your chest training include pullups, deadlifts, bent-over rows, lat pulldowns and seated cable rows.
Warning
If you experience shoulder joint pain during chest workouts, stop the exercise immediately and allow the muscle to rest and heal for at least a week. Then change your technique and focus your training on strengthening the rotator cuff and back muscles. If pain does not improve, seek medical advice.