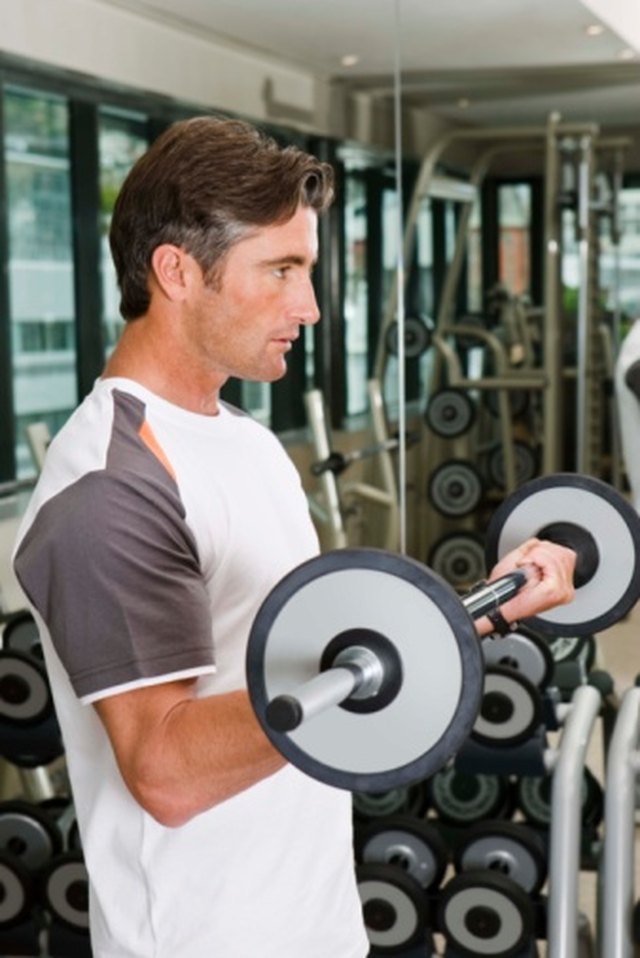 Weightlifting can place excessive strain on your arm muscles and tendons. If you are using improper form and are lifting more weights than you are ready for, you may experience pain after weightlifting. A mild soreness, called delayed onset muscle soreness, is normal and will usually last no longer than two days. However, if you feel sharp, shooting pain or muscle soreness beyond a couple of days, you could have torn a ligament, tendon or muscle and you should consult a physical therapist or doctor.
Delayed Onset Muscle Soreness
You may think you hurt your arms after weightlifting if you are experiencing delayed onset muscle soreness. This refers to the damage you cause your muscles while performing eccentric exercises such as lifting weights. This soreness will not last but you can assist your body in recovering. There is no established treatment for delayed onset muscle soreness, but antioxidants and anti-inflammatory medication have the potential to treat it. If you want to use natural remedies, anti-inflammatory herbs you can try include turmeric and ginger. Cook with these herbs by adding them to your rice or mixing them in with stir-fry veggies. You can obtain antioxidants from berries and dark leafy greens.
Torn Bicep Tendons
If your arm hurts in the front of your upper arm close to your shoulder, you may have torn your bicep tendons. Many times these tears are not serious and you can take simple measures to relive the symptoms. When a bicep tendon tear is more serious, you may require surgery. Symptoms of a bicep tendon tear include sharp pain in your upper arm region, bruising, tenderness and weakness in your shoulder, cramping of your bicep muscles and difficulty turning your arm. If you think you tore your bicep tendon, consult your doctor immediately to have a magnetic resonance imaging, or MRI, scheduled. Your doctor can determine whether you need surgery or can assist you in finding the proper treatment for your tear.
Temporary Relief
Take pain medication if the pain is too much to handle, until you are able to get examined by your doctor. Ice can help reduce any inflammation, which will also help reduce the amount of pain you are experiencing.
Cease All Exercise
Until you find out why you are experiencing pain after weightlifting, cease all exercise. If you have a tear and you continue to use your arms the next day, you may further damage your tendons and cause irreparable harm. If you have bruising and very sharp pain, try to avoid all forms of movement or lifting of objects until you have seen your doctor.