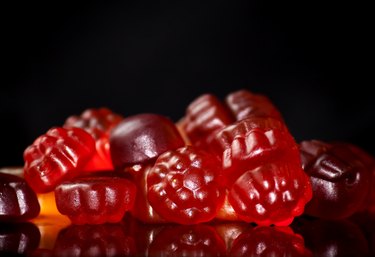 Welch's makes nine varieties of its fruit snack product line. The varieties come in Mixed Fruit and Reduced Sugar Mixed Fruit options. Welch's makes 2.25-ounce and 0.9-oz. pouch sizes of the Mixed Fruit category, and a 0.8-oz. pouch size of the Reduced Sugar Mixed Fruit category. The nine varieties are rich in a number of vitamins, and are fat- and gluten-free. Based on nutrition information provided by Welch's website, the fruit snacks provide essential nutritional value.
Per the company website, Welch's Mixed Fruit Snacks contain juices from concentrate, including grape, pear, peach and pineapple. They also contain corn syrup, sugar, modified corn starch, gelatin, citric acid, lactic acid, natural and artificial flavors, ascorbic acid, sodium citrate, coconut oil, carnauba wax and several food dyes. Strawberry, orange, raspberry and grape purees are also found in the fruit snacks. Reduced-sugar fruit snacks contain the same ingredients except for sugar amounts, and features phenylalanine, an artificial sweetener.
According to Welch's, the fruit snacks contain a full day's worth of your vitamin C requirement, as well as 25 percent of the recommended daily value of vitamins A and E. The website notes that there are no preservatives added to the fruit snack varieties. The 2.25-oz. pouch contains 130 calories, the 0.9-oz. pouch contains 80 calories and the 0.8-oz. pouch has 70 calories. None of the varieties contains any fat or cholesterol, and are low in sodium. The large pouch has 31 grams of total carbohydrates, of which 18 g come from sugars, while the middle-sized and small pouches have 19 g and 18 g of total carbohydrates, respectively.
The vitamins found in Welch's Fruit Snacks are essential to good health. Vitamin C contributes to the growth and repair of tissues in your body, helps build collagen to promote wound healing and plays an important role in maintaining healthy cartilage, teeth and bones. This antioxidant is also known to be an effective defense against free radicals, according to the MedlinePlus online medical encyclopedia. Vitamin A encourages good vision and, like vitamin C, acts as an antioxidant. Vitamin E, also an antioxidant, plays a role in red-blood-cell production and has been known to promote heart health.
The overall nutritional value of Welch's Fruit Snacks is considerable. Food products high in essential vitamins that contain no fat, cholesterol or added preservatives, and that are low in sodium, can be incorporated into your daily diet. You should be wary of Welch's Fruit Snacks, however, if you are a person with diabetes or are a candidate for diabetes. The sugar contained within the fruit snacks could cause your sugar levels to rise. If you have diabetes limit your consumption of foods high in sugar.