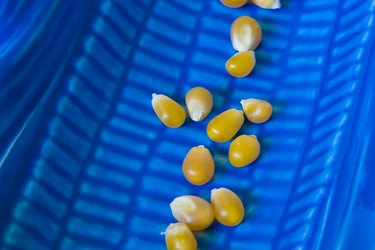 Although popcorn served in movie theaters and other venues is often high in calories and fat, you can have more control over the nutritional value of this snack by popping your own. Unpopped popcorn kernels have dramatically different nutritional information from movie-style popcorn, as they are low in fat and moderately low in calories.
Calorie Content
LIVESTRONG.COM's MyPlate notes that a 1/2-cup serving of unpopped popcorn kernels contains 420 calories. This amount provides 21 percent of the recommended daily intake of 2,000 calories. According to the exercise expenditure data from the Mayo Clinic, it would take nearly two hours of weightlifting to burn off 420 calories.
Fat Content
Unpopped popcorn kernels are low in fat, with 4.8 g of total fat in a 1/2-cup serving. Less than 1 g of this fat comes from saturated fat. Cooking the kernels with oil will add fat, however; a 1-tbsp. serving of canola oil contains 14 g of fat.
Carbohydrate Content
Most of the calories in unpopped popcorn kernels come from carbohydrates. A 1/2-cup serving of unpopped kernels contains 84 g of carbohydrates. This serving is sugar-free and provides 16 g of fiber, a nutrient that may help reduce your cholesterol levels, according to Colorado State University. The university recommends consuming at least 14 g of fiber for every 1,000 calories you consume. If you follow a 2,000-calorie diet, this would be at least 28 g.
Protein Content
Unpopped popcorn kernels also contain protein. A half-cup of these kernels provides 12 g of protein. Although this is less protein than meats and seafood provide, it is more than protein from other snack foods, such as potato chips, which contain 2 g of protein per 15 chips.
Vitamin and Mineral Content
Unpopped popcorn kernels are not rich in vitamins and minerals. A 1/2-cup serving contains 20 percent of the daily recommended intake of iron but is not a rich source of any other vitamins or minerals, according to LIVESTRONG.COM's MyPlate.