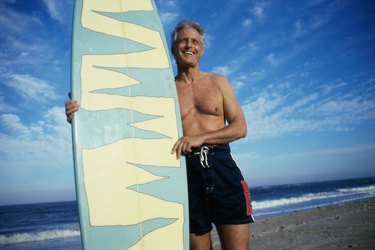 Swimming jockstraps serve two purposes, whether you're at the pool or the beach. The support helps prevent injuries while the coverage helps prevent embarrassment. Swimming jockstraps are available at sports and underwear retailers.Swimming jockstraps are worn by competitive swimmers as well as casual bathers, and prices can start at less than $10.
Basics
Swimming jockstraps are an extra layer of protection beneath your swimming trunks. Although men's swimming trunks can come with a lining, the lining is usually a loose-fitting, thin material with equally thin elastic around the leg openings. The lining is neither very supportive nor does it guard against unexpected exposure. Swim jockstraps have a firm elastic waistband and leg straps as well as a front pouch to keep everything secure and in place.
Other Uses
Swimming jockstraps can also work for workouts or sports on dry land. They differ from traditional jockstraps with the pouch materials, which is usually a quick-drying, stretchy, open-knit rather than a densely woven material that would take longer to dry. Jockstraps not designed for swimming can also feature thicker elastic around your waist and legs that your swimsuit might not as easily cover.
Sizing
Sizes usually range from small to extra large, with the size based on the length of the waistband in inches. The sizing does not indicate the pouch size, although the front pouches tend to be larger on the jockstraps with larger waistbands. If a pouch is too tight but the waistband fits, you're better off going with a larger waistband and adjusting it to fit your waist. In addition to being uncomfortable, wearing a pouch size that is too small will not give you the proper coverage and support you need.
Considerations
Pick a swimming jockstrap that fits smoothly, comfortably and completely beneath your swimming trunks. Different brands can have slightly different cuts, not all of which may work with your swimsuit. If you simply cannot embrace the idea of a swimming jockstrap, you can get support or coverage with a few other options. Try for support without a jockstrap in a tight-fitting, nylon and Lycra suit, worn on its own or under loose-fitting trunks. Board shorts or long swimming trunks can give you adequate coverage, but not all of them include lining or offer any support at all.