Folic acid is a vitamin and iron is a mineral, but your body needs both of these nutrients. Each serves a different purpose critical for life. Some vitamins, such as prenatal vitamins and multivitamins, contain both of these nutrients in addition to many other nutrients because it is OK to take iron and folic acid at the same time. Check with your health care provider to see if taking supplements is right for you.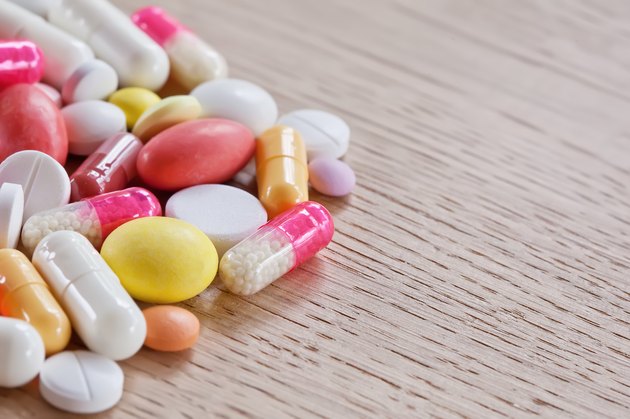 Folic Acid
Folic acid belongs to the B vitamin group; it is also known as B-9. Folic acid is important for brain function, mental health, emotional health and the production of deoxyribonucleic acid and ribonucleic acid, or DNA and RNA. Folic acid also helps iron function properly in your body in addition to aiding in the formation of red blood cells, or RBCs. Pregnant women require more folic acid than women who are not pregnant. Taking folic acid during pregnancy can also help prevent birth defects related to the spine and brain.
Iron
Iron is a mineral that is stored primarily in your liver, but it is also stored in your bones marrow, spleen and muscles. Iron is essential because it helps your RBCs carry and deliver oxygen to other parts of your body, as well as aiding in energy production. Iron is another nutrient that pregnant women need more of. This is due to the increased volume of blood supply during pregnancy to accommodate a woman's unborn child. Women already have an increased need for iron because of menstrual periods; pregnancy just adds to this need.
Supplements
Depending upon the type of supplement you're considering, you may find iron and folic acid in a multi-blend or as individual supplements. Almost any drug store or retail store will carry multivitamins, prenatal vitamins and individual supplements. It's very important that you do not rely on the supplement alone to supply your need for a particular vitamin or mineral as they are merely, as the name suggests, a supplement. They are not meant to supply your daily needs on a regular basis. Supplements only help complete your daily recommended allowance should you not get enough of that supplement during the day.
Diet
While you can take folic acid and iron together, it's always best to obtain nutrients from food. Include plenty of foods that offer these nutrients. Beans, organ meat, lean red meat, legumes and dark leafy vegetables are good sources of iron. Almost any kind of green vegetable, such as Brussels sprouts and spinach, will supply an adequate amount of folic acid. Other sources of folic acid include orange juice, avocado, salmon, whole grains and root vegetables.