Whether you'll be sporting a swimsuit, short shorts or skinny jeans, having slim, shapely legs can help you to feel more secure, especially when looking at your rear view. Lose fat and add definition and shape to your butt, hamstrings and calves by engaging in a dedicated diet and workout program that includes both cardiovascular and strength-training exercises. Incorporate these exercises into your training program two to three times per week and then hit the beach with confidence.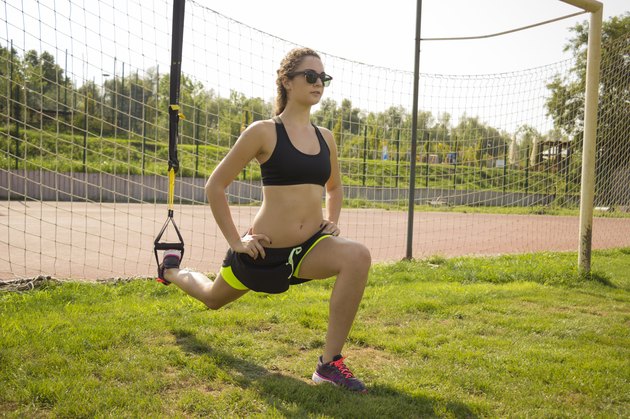 Diet
Step 1
Reduce your normal, needed caloric intake by 3,500 calories per week, or 500 calories per day, to lose 1 lb. of body weight per week. You cannot spot reduce fat, but losing weight throughout your entire body will allow you to reduce the fat on the back of your legs.
Step 2
Choose nutrient-rich, low-calorie foods, such as fresh fruit and vegetables. Eat these, instead of foods that contain added sugars and saturated fats, to help you reduce your caloric intake. For example, eat an apple or pear rather than cookies or potato chips as a snack, and have a fresh garden salad with your lunch instead of French fries.
Step 3
Eat brown foods over those that are white, such as whole-wheat bread rather than white bread, brown rice over white rice and whole-grain pasta over white pasta. Whole-grain foods, which are packed with fiber, are digested at a slower rate than their white-flour counterparts; this can reduce blood sugar spikes and help your body to use the food as fuel rather than store it as fat.
Run
Step 1
Run two to three times per week. Running at the pace of 6 mph can burn more than 400 calories in 30 minutes for someone that weighs 135 lbs. while also toning your butt, hamstrings and calves.
Step 2
Run up hills. This will strengthen and sculpt the back of your legs. Increase the incline on the treadmill every five minutes for two to three minutes to incorporate hills into your indoor run. Plan a running route that allows you to push your body up a hill every so often if outdoors.
Step 3
Incorporate sprints to keep your body guessing and burn fat. Sprint for 20 to 30 seconds at an accelerated speed and then recover for two to four minutes by running at your normal endurance pace. Repeat this patter for six to eight cycles and then cool down for five to 10 minutes.
Wide-Legged Squat
Step 1
Place your feet slightly wider than hip-width apart, toes facing forward. Place your hands on your hips.
Step 2
Lower your butt toward the floor as you bend your knees.
Step 3
Stop when your thighs are parallel to the floor. Your knees should not extend beyond your toes.
Step 4
Push through your feet to return to standing position. Complete three sets of 10 to 15 repetitions to tone and sculpt your hamstrings and butt.
Calf Raises
Step 1
Stand with your feet hip-width apart, toes pointing forward. Place your hands on your hips.
Step 2
Push through your toes and the ball of your foot as you raise your heels off of the ground, until you are balancing on the front part of your foot. Hold onto a wall or chair for support if necessary.
Step 3
Lower your heels back to the floor to complete one repetition. Complete a total of three sets of 10 repetitions to sculpt and strengthen your calves.
Tip
Drink plenty of water. Dehydration promotes muscle breakdown, according to the University of California Riverside, which can lead to slower metabolism.
Warning
Before starting a new eating program or fitness regimen, get the OK from your health care provider.