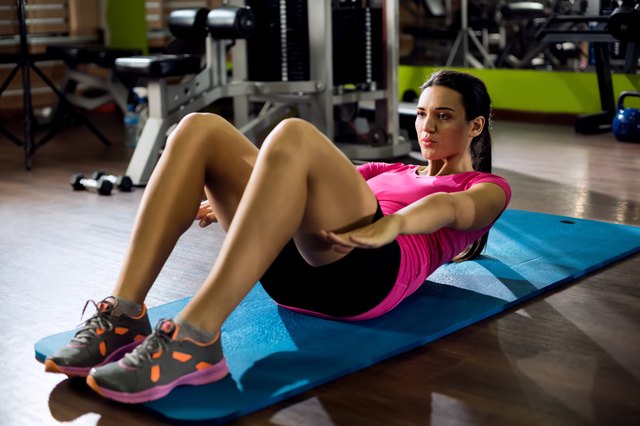 Crunches should prove to be challenging for your abdominal muscles, but they shouldn't cause cramps or pain. Ensure that you're performing your crunches with proper technique and consider incorporating additional exercises that are effective at developing your abdominals. If you continue to suffer cramps after crunches, there are some techniques you can employ to reduce the risk of cramps and alleviate cramps when they occur.
Causes of Cramps
Stomach muscle cramping can be caused by dehydration or muscle fatigue. According to the American Academy of Orthopaedic Surgeons, a lack of electrolytes due to dehydration can lead to muscle cramping. This risk is increased when you've been doing crunches in hot weather. Muscle fatigue due to poor conditioning can increase your risk of overexertion which in turn depletes a muscle's oxygen supply and causes a spasm.
Treating Cramps After Crunches
If your stomach starts to cramp after crunches, you can help alleviate the cramp by immediately statically stretching the abdominals. Flip over so that you're lying on the exercise mat face-down. Place your hands on the mat directly under your shoulders. Extend your arms to lift your chest and shoulders up off the floor so that you feel a pull in your abs. Hold the stretch for 30 seconds. You should feel the cramp gradually subside. Rest a moment and then repeat, performing the stretch three times.
Crunch Technique
Lower the risk of cramps by performing crunches correctly and at an appropriate frequency and volume. Do crunches no more than three days per week and with a day of rest in between. Perform one to two sets of 15 to 20 reps, resting 30 to 60 seconds in between when performing multiple sets. To properly perform crunches, lie on your back on an exercise mat with your feet elevated atop a bench or chair. Your hips and knees should be positioned at a 90-degree angle. Interlock your fingers and place your hands behind your head. Curl forward to lift your upper torso off the floor as high as you can while keeping your lower back on the mat. Lower your torso back to the floor to complete one rep and repeat. To decrease the difficulty of the exercise and thus lower your chances of suffering from cramps, perform the exercise with your arms crossed over your chest.
Preventing Cramping
According to the American Academy of Orthopaedic Surgeons, some people are presdisposed to experiencing cramps. Help reduce your risk of cramping after crunches by drinking water regularly throughout the day before you workout. In addition, take five to 10 minutes to warm up with walking or jogging before beginning crunches. As you get into better shape, your chances of suffering from cramps will decrease. Give your abdominals time to adapt to training by starting with one to two sets of 15 to 20 reps and then increasing your workout volume and intensity gradually.