If you've recently broken a bone, improving your nutrition may aid in the healing process. It's best to obtain nutrients from a well-balanced, whole-food-based diet whenever possible. However, using supplements to increase your intake of key bone-healing nutrients may help you meet your daily needs without increasing your calorie intake. You can find most supplements in tablet, chewable or liquid form. Consult your health care provider before adding new supplements to your routine.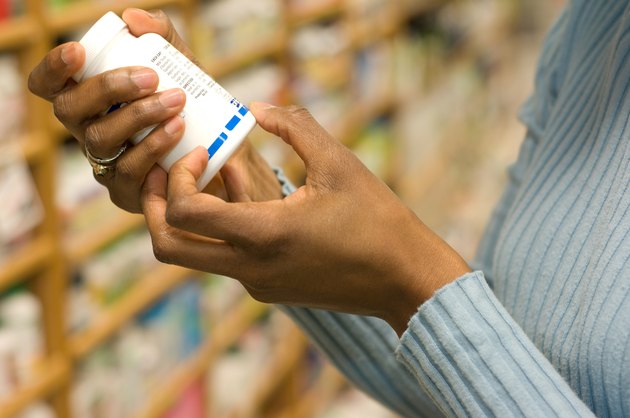 Major Mineral Supplement
Calcium and phosphorus are the main minerals found in bones. Supplementing with them during bone healing can help improve the density and strength of the new bone formation. Magnesium contributes to the structure of bones and also aids in calcium transport in the body. Look for a supplement that contains all three of the minerals calcium, phosphorus and magnesium. Adults need at least 1,000 milligrams of calcium per day, and women over 50 years old and men over 70 years old need at least 1,200 milligrams of calcium per day. Men need at least 420 milligrams of magnesium per day, women need at least 320 milligrams of magnesium per day and all adults need at least 700 milligrams of phosphorus per day. Your need for these minerals may increase slightly when healing from a fracture, but no standard dosage exists.
Trace Minerals
Certain trace minerals, while only needed in the body in tiny amounts, play a major role in bone healing. According to an October 2010 article in the journal "Nutrition Research and Practice," zinc encourages bone cell production and promotes collagen, an important connective fiber, formation in bones. Men need at least 11 milligrams of zinc per day and women need at least 8 milligrams. Dr. Susan E. Brown from the Center for Better Bones notes that the trace minerals copper and silicon may also help bones heal by aiding in collagen synthesis. Silicon doesn't have a recommended amount you should ingest daily, but adults need at least 900 micrograms of copper per day.
Fat-Soluble Vitamins
A supplement of fat-soluble vitamins D and K may also aid in bone healing. Getting enough vitamin D helps your body absorb the minerals calcium and phosphorus needed to heal bones. Without enough vitamin D, healing of your fracture may be delayed and your bones may be soft, thin and brittle. Aim for getting at least 15 micrograms of vitamin D per day or at least 20 grams if you're over the age of 70. Fat-soluble vitamins are also best absorbed when taken with food. According to Brown, vitamin K helps bind calcium to bones and reduces calcium loss in urination. It may also stimulate bone protein and collagen formation to aid in healing. Men need at least 120 micrograms of vitamin K daily and women need at least 90 micrograms. If you take a blood-thinning medication, talk your health care provider prior to supplementing with vitamin K as it may counteract your medication.
Water-Soluble Vitamins
The water soluble vitamins C and B-6 are other essential supplements required to speed bone healing. Vitamin C is an antioxidant with anti-inflammatory properties to help reduce swelling around injuries. It's also needed for proper collagen formation. Men need at least 90 milligrams of vitamin C daily and women need at least 75 milligrams. Adequate levels of vitamin B-6 support vitamin K function and also encourages bone collagen formation. Men need 1.3 to 1.7 milligrams of B6 daily and women need 1.3 to 1.5 milligrams daily.
Anti-Inflammatory Nutrients
You may also want to take supplements that help decrease inflammation and swelling around your fracture. Omega-3 fatty acid supplements from fish, plant and nut oils have strong anti-inflammatory properties. The supplements quercitin, a type of flavonoid antioxidant, and bromelain and trypsin, two enzymes, may also be useful in bone healing, according to Brown.