In an effort to keep blood sugar levels low and stable, many diabetics and dieters reference the glycemic index. Since carbohydrates have the greatest effect on your blood sugar, the majority of foods listed on the glycemic index are carbohydrate-based foods. Eggs, especially egg whites, are part of many people's daily diets or weight-loss diets.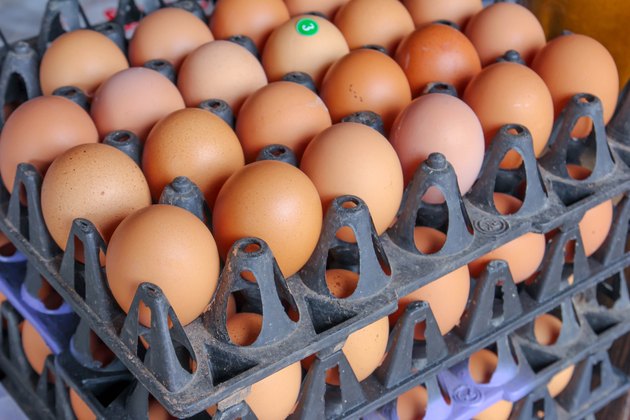 Glycemic Index
The glycemic index is a chart that ranks foods and beverages based on their potential to raise your blood sugar levels. The foods and beverages with high rankings, 70 and above, will quickly and significantly increase your blood glucose levels. Foods that rank between 56 and 69 have a moderate effect on your blood glucose levels. Finally, foods that rank below 55 have a less significant effect on your blood glucose levels and will not raise them quickly or significantly. The glycemic index is often the frame of reference that separates what is considered a "good" carbohydrate from a "bad" carbohydrate.
Glycemic Index of Eggs
Eggs and egg whites have a glycemic index ranking of zero. Since eggs do not have carbohydrates or any sugars, they do not have the potential to raise your blood glucose levels. Eggs are mainly protein but also contain dietary fat -- mainly healthful unsaturated fat. Egg whites are entirely protein and very low in calories. Since the glycemic index consists of mainly carbohydrate-based foods, eggs are usually not listed on the glycemic index. Foods and beverages that have high glycemic index rankings generally contain processed or refined carbohydrates.
Eggs for Weight Loss
Eggs and egg whites are ideal foods to support a weight-loss diet. The American Council on Exercise specifically recommends egg whites to lose weight. Eggs are high in protein, which is especially important when you are dieting, because protein allows you to keep your lean muscle tissue and burn mostly fat. Each egg white has about 4 g of protein. Eggs are also ideal since they do not raise your blood sugar. When you raise your blood sugar levels, your body releases insulin to lower and stabilize your blood sugar. In turn, insulin tends to store fat on your body. According to Jonny Bowden, Ph.D. and clinical nutrition specialist, eggs score a perfect 1.00 in protein efficiency rating, making them perhaps the best protein source you can eat.
Raw Eggs
Many decades ago, people ate raw eggs on daily basis. Recently, however, the fears of salmonella have discouraged eating nearly any food in its raw state. Bowden explains that the risk is not as significant as you may believe. In a study entitled "An Overview of the Salmonella Enteritidis Risk Assessment for Shell Eggs and Egg Products," published in the April 2002 "Risk Analysis," U.S. Department of Agriculture researchers found that about .03 percent of 69 billion eggs produced annually contained salmonella. Bowden also reports that if you eat organic eggs or omega-3 enriched eggs, the risk is nearly nonexistent.