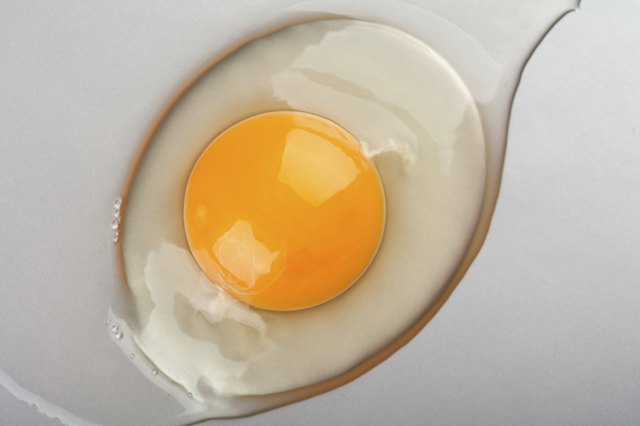 You may have heard or remember that several decades ago people ate raw eggs any time they needed a quick protein boost. Thoughts of raw eggs may remind you of the movie "Rocky," where Sylvester Stallone swallows three whole raw eggs before going out for a run. Many people now consider eating raw eggs to be unsanitary, dangerous and pretty gross. If you eat a lot of eggs or egg whites and wish they were more convenient to prepare, you might be curious about whether eating them raw is a healthy practice.
Salmonella Concerns
The main concern of eating raw eggs, or any food that has not been cooked, is the potential for salmonella food poisoning. Salmonella bacteria are the most common cause of foodborne illness, according to the Iowa State University Extension. "Salmonellosis" symptoms closely mirror symptoms of the flu. Poultry and poultry products such as eggs are major purveyors of salmonella bacteria. Salmonella spreads to food products when a chicken or hen is sick from the bacteria.
Potential for Salmonella Poisoning
Jonny Bowden, Ph.D. and clinical nutrition specialist, discusses the risks of eating raw eggs in his book "150 Healthiest Foods on Earth." Bowden claims he eats raw eggs very often, and the risks of salmonella food poisoning are overstated and unlikely. In an April 2002 study published in "Risk Analysis" by the U.S. Department of Agriculture Food Safety and Inspection Service, inspectors found that salmonella existed in only .03 percent of the approximately 69 billion eggs produced each year. Healthy chickens are so infrequently contaminated with salmonella that it should not be a concern. Only sick birds can produce contaminated eggs. The risk for salmonella poisoning further decreases if you buy eggs from cage-free, organically fed birds. These birds are in excellent health and kept in good living conditions where they rarely get sick.
Pasteurized Egg Whites
While the risk of salmonella in eggs appears to be very small, you can completely eliminate the risk of any bacteria by buying liquid egg whites. Liquid eggs are pasteurized and ready to consume. Most grocery stores carry these egg whites, often next to the eggs. You can use them to cook with and to make omelets, scrambled eggs or healthful baked goods. You can also add them to a fruit smoothie to increase its protein content. Pasteurized egg whites have virtually no fat, no carbohydrates and are nearly 100 percent protein.
Quality Source of Protein
The American Dietetic Association and Jane Kirby, R.D., explain that eggs are the most bioavailable source of protein you can eat. Eggs have a protein efficiency rating and net protein utilization score of a "perfect" 1.00. In theory, your body is better able to use the dietary protein in eggs for muscle growth, muscle repair and other bodily functions than the protein from any other food. The University of North Texas Dining Services calls eggs the "gold standard" of protein and states that your body can use 93.7 percent of the egg protein you consume. Comparatively, your body can use 84.5 percent of the protein in milk products and only 74.3 percent of the protein from beef.