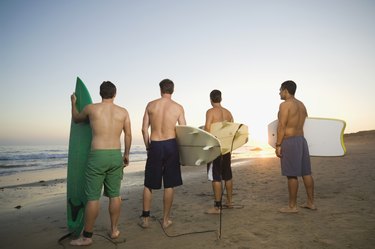 The type of swimming trunks you wear are a matter of preference. While some people prefer sportier attire while at the beach with tighter fits and less fabric, others might prefer the modesty of a pair of board shorts. Whichever you choose, getting the right fit and size can mean the difference between confidently enjoying the beach or awkwardly adjusting your trunks while you attempt to swim. Your actual waist measurement is the best indicator of your size in swimming trunks.
Step 1
Define the type of swimming trunks you are the most comfortable in. Because different types are supposed to be worn in different ways, the fit will be affected when choosing between an athletic Speedo suit or baggier surf shorts. Because athletic suits are meant to fit closer to the body, they'll naturally fit more tightly than looser varieties of swimming trunks.
Step 2
Measure your waist using a measuring tape. In order to measure properly, measure the area that your swimming trunks tend to rest. For trendier, baggier swimming trunks, measure around the hip bone. For more classic, sportier types, measure closer to your natural waist. Always order using your waist measurement. Even if the manufacturer sizes trunks in a small, medium or large, you can call customer service or check the manufacturer's website for size conversion shorts that use your waist measurement to tell you which size you are.
Step 3
Order a size larger when you're between sizes. Swimming trunks naturally fit tighter than a pair of casual shorts or jeans. Look for a pair with drawstrings if possible, which will allow you to adjust the fit until it's right.
Step 4
Try on swimming trunks, if possible. Different manufacturers will fit differently. Even if you order online, ensure that the online store has a solid return policy and order a few different pairs of swimming trunks. You can try them in the comfort of your home and return those that didn't fit. When trying on swimming trunks, wear slim-cut underwear that won't interfere with the fit so you have a true representation of how the trunks fit and feel on your body.
Tip
If you find a manufacturer's trunks that fit you perfectly, consider buying multiple garments and alternating their use. They'll last you a long time and you won't have to go shopping for a period of years.
Warning
Avoid buying poorly fitting trunks, even if you're partial to the style. They can bind and make swimming uncomfortable.