Chicken is a good protein source, with a 3 oz. serving providing 50 percent of the Daily Value for protein. Chicken is also a good source of niacin, vitamin B-6, phosphorus, zinc and riboflavin. It also contains some dietary cholesterol and saturated fat. However, steps can be taken to minimize the fat content of your chicken and blunt its effect on your cholesterol levels.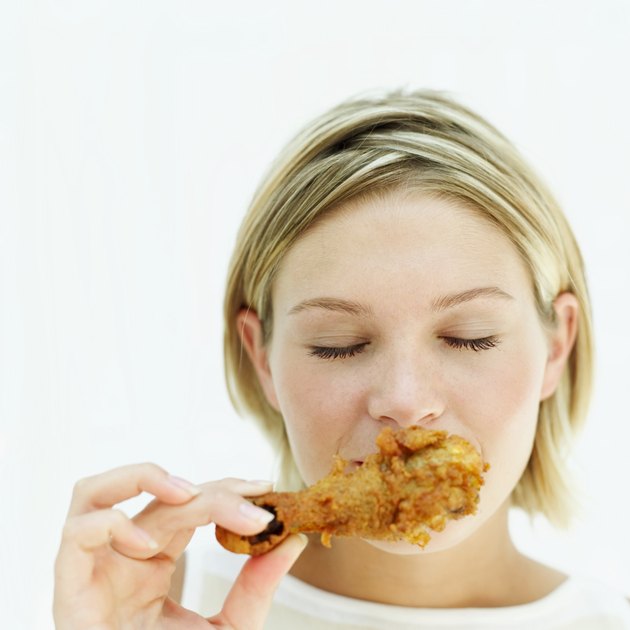 Chicken and Cholesterol
The American Heart Association recommends you limit your cholesterol intake to 300 mg per day. If you have high cholesterol already, limit your cholesterol intake to 200 mg per day. A 3 oz. serving of skinless roasted chicken contains between 70 mg and 80 mg of dietary cholesterol, depending on whether it is dark meat or light meat. This is about 25 percent of your recommended cholesterol for the day.
Chicken and Saturated Fat
Saturated fat affects cholesterol levels more than dietary cholesterol. The American Heart Association recommends limiting your saturated fat intake to less than 7 percent of your calories for the day. A 3 oz. serving of skinless roasted white-meat chicken contains only 1 g of saturated fat, and the same size serving of skinless roasted dark-meat chicken contains only 2 g of saturated fat.
Cooking for Lower Cholesterol
Choose chicken breasts with no skin or low-fat ground chicken. Cut off any visible fat from your chicken and cook it using methods that don't require added fat. Baking, broiling, grilling, roasting and sauteing are healthy cooking methods. Drain any fat that comes off your meat while it is cooking. Finally, make meat a smaller part of your meals while increasing your intake of fruits and vegetables.
Considerations
Although chicken has about the same amount of cholesterol as lean red meat, it has less saturated fat, especially if you choose white-meat chicken and cook it without added fat. Thus, it usually has less of an effect on total cholesterol. However, you should still watch your portion sizes, keeping to one 3 oz. serving per meal.