Excess fat in your diet increases your caloric intake and introduces detrimental elements into your bloodstream that threaten your health and longevity. Eating too much solid fat, which provides no essential nutrition other than calories, can also indicate deficiencies in vitamins, minerals and beneficial dietary fiber. Over time, consuming more than 20 to 35 percent of calories from fat can cause weight gain, obesity and chronic diseases that cannot be cured. The effects of uncontrolled fat intake on your organs include potentially fatal complications.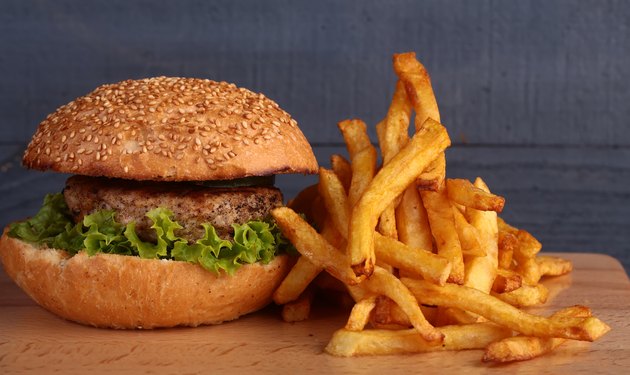 Obesity
At 9 calories in each 1 g, all types of fat -- monounsaturated, polyunsaturated, saturated and trans -- deliver more calories than any other nutrients. Taking in more calories than you can expend in an average day makes you gain weight, placing strain on your cardiovascular, respiratory and other body systems. According to the Centers for Disease Control and Prevention, being overweight or obese, with a body mass index of 30 or more, increases your blood pressure and blood cholesterol. These and other weight-related risk factors raise your risk for malfunction of the heart, gallbladder, lungs and liver.
Constipation
Diets that are high in fat can affect your digestive organs, including the stomach and colon. If you have diabetes brought on by a dietary imbalance, fatty foods can cause symptoms of gastroparesis, or delayed emptying of the stomach during digestion. If your diet is high in saturated fat to the detriment of your fiber intake, you may become constipated frequently. Constipation causes digested food to remain in the colon instead of being expelled as normal stool.
Atherosclerosis
Consuming a lot of saturated fat affects your blood cholesterol and arterial health, which can ultimately damage your heart, brain or kidneys. When blood cholesterol rises, arterial bleeding and damage can occur that encourages the buildup of plaque on artery walls. Saturated and trans fat particles contribute to this plaque, narrowing the space for blood flow and potentially fully blocking off blood vessels. Heart attack, stroke or kidney failure can result.
Cancer
An excess of fat and a shortage fiber in your diet can cause cancerous cellular growth, which can spread to many organs. The Office of the Surgeon General reports that overweight conditions resulting from too much fat consumption also increase your risk for developing cancer of the colon, gallbladder, kidney and reproductive organs.