While working to strengthen and tone your body, a nutritious diet is crucial. Such a diet, sufficient in nutrients and calories, can help keep you and your muscles energized, prevent injuries and ensure healthy exercise recovery. While there's no need to eat "perfectly," choosing primarily nutritious foods and eating at regular intervals can help you get the most out of your workouts.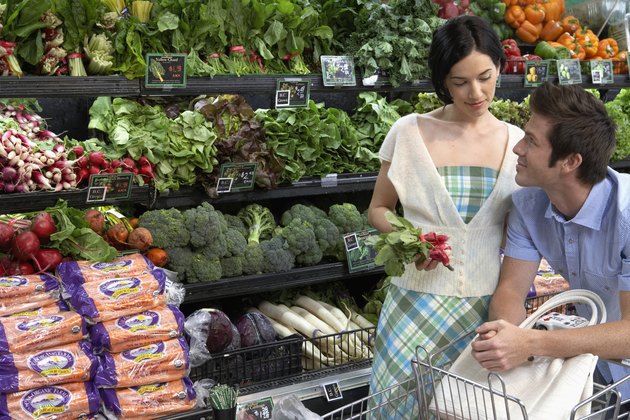 Healthy Carbs
Carbohydrates fuel your muscles and energize your body, ensuring strong workout performance and staving off fatigue. Your best sources are loaded with vitamins, minerals and antioxidants and include fruits, vegetables and whole grains, such as oatmeal, brown rice and 100 percent whole-grain bread. About 50 to 65 percent of your diet should consist of carbohydrates. Eat a variety of these foods throughout each day, particularly after workouts, for best results.
Lean Protein
Your protein needs increase while building muscle, but not as high as many people think. While toning and strengthening your muscles, your diet should consist of about 15 to 20 percent protein, says the Academy of Nutrition and Dietetics. Nutritious sources are low in saturated fat and include lean meats, fish, eggs, low-fat milk and yogurt, beans, and lentils. Because beans and lentils also provide fiber and other carbohydrates, they serve as a well-balanced option.
Healthy Fats
Dietary fat may not pop first to mind when you're considering muscle fuel, but it's vital. Fat provides energy to your muscles during activity and helps your body absorb essential vitamins. Your diet should consist of about 20 to 35 percent fat, says the Academy of Nutrition and Dietetics, with less than 10 percent of the unhealthy, saturated type prevalent in fatty meats, cheeses and fried foods. Healthy sources include nuts, seeds, avocados, oily fish such as salmon, and olive oil.
Hydrating Foods and Drinks
When you're physically active, your hydration needs increase. Water and other fluids transport glucose in your blood to working muscles for fuel, regulate your body temperature through sweat and cushion your joints, preventing injury. To make sure you're drinking enough, check your urine. If it appears dark or there is little of it, you probably haven't had enough. Water, pure juices, low-fat milk, broth and fruit smoothies are all hydrating. Fresh fruits and vegetables also provide useful amounts of fluid.