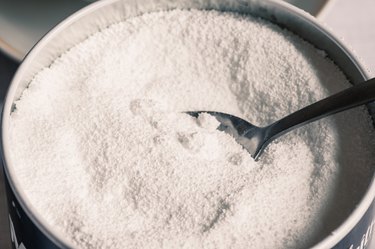 Truvia is a sweetener extracted from the stevia plant. Because it contains no calories, people often use it as a sugar substitute in everything from coffee to cereal. You can also use Truvia's Baking Blend or Brown Sugar Blend for to help reduce overall calories when baking. The Brown Sugar Blend and Baking blends reduce overall calories from sugar by 75 percent. When substituting Truvia for sugar in a recipe, keep in mind that it is not an exact one to one conversion; the packaging will instruct you on how much to use.
Step 1
Read through your recipe to see how much sugar it calls for.
Step 2
Convert the amount of sugar you need into the appropriate amount of Truvia. For a recipe calling for 1 cup of sugar, use 1/3 cup plus 1 1/2 Tablespoons, or 24 packets, of Truvia, the company advises. To replace 1/4 cup of sugar, use 1 Tablespoon plus 2 teaspoons of Truvia, or six packets. The Truvia equivalent of 1/3 cup of sugar is 2 Tablespoons plus 1 teaspoon, or eight packets. For 1 Tablespoon of sugar, use 1 1/4 teaspoons of Truvia, or 1 1/2 packets. A teaspoon of sugar amounts to 3/8 of a teaspoon of Truvia, or half of a packet.
Step 3
Measure out the specified amount of Truvia based on the conversion system into an appropriately sized measuring spoon or cup.
Step 4
Add the Truvia to the recipe as directed.
Step 5
Prepare the rest of the recipe as directed.
Tip
Although using Truvia and other calorie-free sugar substitutes will reduce your daily caloric intake, the Cleveland Clinic warns that it may not be that useful for long-term weight control. Additionally, the Food and Drug Administration (FDA) has not yet approved whole-leaf stevia for use as a sweetener, although it has been designated as "generally recognized as safe" by the FDA. Truvia is made from rebiana, a portion of the stevia leaf, but it does not use the entire leaf, which complies with the FDA regulations.