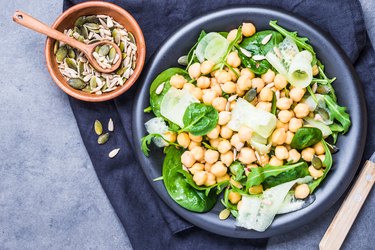 This might sound like a far-fetched claim, but something as simple as canned garbanzo beans, also known as chickpeas, can be used to make every course of a meal — even dessert!
Whether you're interested in making soup, salad, a sandwich or baked goods, you'll find that learning how to cook canned chickpeas is limited only by your creativity. Even better is the fact that these versatile little beans are packed full of nutrients.
Canned Chickpeas Nutrition
Check out what canned garbanzo beans have to offer: A half-cup serving, according to the USDA, has 160 calories with 10 grams of protein, 2 grams of fat and 26 grams of carbohydrates. Of those carbs, 5 grams are from fiber and only 1 gram is from sugar.
But that's not all the benefits of canned chickpeas nutrition. According to an article published in the journal Nutrients in December 2016, people who eat chickpeas will be getting vitamin A, vitamin E, vitamin C, folate, magnesium, potassium and iron.
The article also noted that chickpeas — as well as hummus, a popular dip made from chickpeas — could help with weight management and insulin regulation, and could improve symptoms of heart disease and ward off cancer.
Chickpeas and hummus are an integral part of the Mediterranean diet, which the Academy of Nutrition and Dietetics emphasizes for its part in long, heart-healthy, cancer-free lives.
Chickpeas are a good plant-based protein source, one that is also rich in complex carbohydrates and naturally low in fat. Hummus made from chickpeas serves as a nice dip for raw vegetables, thus encouraging consumption of other healthy foods.
These canned chickpea nutrition benefits are important, but be careful of excess salt. As the USDA lists, a half-cup of canned garbanzo beans has 290 milligrams of sodium. The American Heart Association points out that excess sodium, particularly from canned products, can lead to high blood pressure.
If you're trying to avoid using canned products, you can cook dried chickpeas in your slow cooker following this recipe.
How to Cook Canned Chickpeas
So now that you understand the health benefits, you're ready to figure out how to cook canned chickpeas. The easiest (and maybe most popular) recipe doesn't even require any cooking: hummus. The Mayo Clinic explains how you can whip up this easy appetizer or snack in your food processor with canned garbanzo beans plus some olive oil, lemon juice, garlic, tahini and spices.
Another great way to turn canned garbanzo beans into an irresistible snack is to bake them in the oven. To make crispy roasted chickpeas, you can cook canned chickpeas in the oven at 400 degrees after tossing them with olive oil, salt and spices.
You can also learn how to make falafel, a pan-fried patty of ground chickpeas and spices. USDA Choose My Plate offers a recipe using dried chickpeas, but you can opt to use canned instead and simply skip the step of soaking or simmering the beans.
All these recipes are great ways to cook with a can of chickpeas and are sure to inspire you with a few ideas of your own as you experiment in your kitchen.