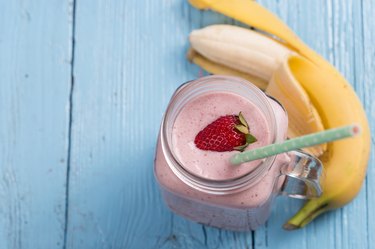 If you're looking for a creamy and refreshing treat that can also be healthy, consider making a strawberry smoothie without yogurt. Along with being naturally sweet and delicious, strawberries are an excellent source of vitamin C, fiber, potassium, folate and antioxidants.
When you combine strawberries into a smoothie, you have a satisfying, filling and easy-to-make breakfast, snack or even meal substitute.
Irresistible Strawberry Smoothie Without Yogurt
Don't have any yogurt in your fridge at the moment? Or maybe you simply don't like yogurt? Strawberry smoothies without yogurt are simple to make, and we have a few tips and tricks (plus the recipe below) to take your yogurt-less strawberry smoothie game to the next level. This recipe makes one smoothie, but double the recipe if you're also making a smoothie for a friend.
6 strawberries

1 banana, cut into pieces

1 cup low-fat milk (or unsweetened nondairy milk alternative)

1 tablespoon peanut or almond butter

3 to 5 ice cubes

added protein of your choice (optional)
Wash and cut the stems off of six large, ripe fresh strawberries. Place the strawberries into a blender. Add the banana into the blender with the strawberries, along with 1 cup of milk, 1 tbsp peanut (or almond) butter and three to five ice cubes. Place the lid on the blender and mix using a high-speed setting. Stop when the ingredients are completely mixed together. Pour into a tall glass and enjoy.
Add Protein to Your Smoothie
Whey protein: If that tablespoon of peanut butter isn't cutting it for you in terms of protein consumption, try adding whey protein to your smoothie. Whey is a high quality protein, according to the Dairy Council of California, and it contains very high concentrations of essential amino acids which are indispensable when it comes to stimulating muscle protein synthesis.
Hemp seeds: Hemp seeds are a high-quality protein source and they can be found at most health stores. Whole, hulled hemp seeds provide 6g of protein per 2 tablespoon serving, according to USDA's FoodData Central. The protein content of hemp seeds is higher than that of many other nutritious seeds.
Chia seeds: Chia seeds, which are about the size of a poppy seed, contain over 4g of protein per 2 tablespoon serving, according to the USDA. Chia is also high in heart-healthy omega-3 fatty acids as well as alpha-linolenic acid (ALA), magnesium, calcium, zinc, and certain phenolic compounds.
Pumpkin seeds: Pumpkin seeds (also called pepitas) are a natural source of protein as well as essential fatty acids, vitamins and minerals. A 1-ounce serving of pumpkin seeds — about a handful — contains 126 calories and gives you over 5 grams of protein, according to the USDA.
Freeze Your Fruit
Sometimes you can't get through a pint of strawberries or a bunch of bananas without some of the fruit getting moldy or overripe — but no one wants to contribute to America's food waste problem.
A perfect solution is buying frozen fruit for your smoothies, or cutting up the bananas and strawberries when they're at peak ripeness and freezing them in sealed plastic bags.
Calories In a Strawberry Smoothie
One serving of the strawberry smoothie recipe above (without any additional protein supplements like pumpkin seeds or whey protein) provides: 337 calories, 7 grams of protein, 13 grams of total fat and 29 grams of sugar.
Although the sugar in this smoothie is all natural sugar, you won't want to drink this smoothie every single day due to the high sugar content.