Typically associated with Thanksgiving Day stuffing, gizzards are a much more versatile ingredient than you might assume. Located in the upper portion of a bird's stomach, gizzards are responsible for grinding up ingested food. Consequently, they're tough and fibrous and not very flavorful on their own. But a few simple cooking methods can help you transform chicken gizzards into tender and delicious edibles, equally enjoyable on their own or added to other dishes.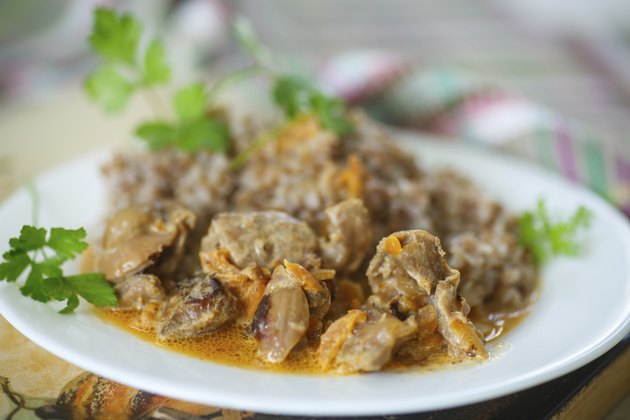 Juicy and Fork Tender
To braise gizzards, salt and pepper them, then transfer them to a high-sided, heavy-bottomed pot along with a few tablespoons of olive oil. You may use cooking spray as well. Saute the gizzards in small batches to ensure proper browning. Add enough braising fluid to barely cover the ingredients. Choose broth, stock or water; an acid such as vinegar or wine; and aromatics, such as herbs and spices. Bring the braising fluid to a simmer, cover the pot, and let the gizzards cook on low heat for 1 1/2 to 2 hours.
Slow-Cooked for Lazy Days
The texture of gizzards begs for tenderizing via a slow, low-heat cooking process. To a slow-cooker, add the gizzards, any assortment of root veggies, herbs, spices, salt, pepper, a little low sodium stock and a drizzle of olive oil. Place the lid on the slow-cooker and set it on low. Let the gizzards cook for six to eight hours.
Sizzling Succulence
Gizzards tend to caramelize very quickly in oil -- so quickly that they are seldom tender after leaving the pan. Before pan-searing or deep-frying gizzards, tenderize them by parboiling them for 15 minutes or by soaking them in buttermilk for one to two days. If you opt to deep-fry them, dredge them in flour first. If you're going to pan-sear them, be sure to use an oil with a high smoke point, such as canola or vegetable oil, or use cooking spray.
Baked and Barbecued
Baking and barbecuing turns tenderized gizzards into a melt-on-your-tongue appetizer. To bake the gizzards, cut them in half; season them lightly with salt, pepper, herbs and spices; and drizzle with olive oil. Bake at 500 F for 25 to 30 minutes, or until the gizzards are browned. Add barbecue sauce to the cut up and seasoned gizzards before baking for a tangy dish.