It isn't likely that drinking hard alcohol is going to help with weight loss. In fact, there's some evidence that links it to weight gain instead. A number of factors may influence the effects of alcohol on weight, however, including how much you drink and how often you drink. These factors may be more important than the type of alcohol you drink.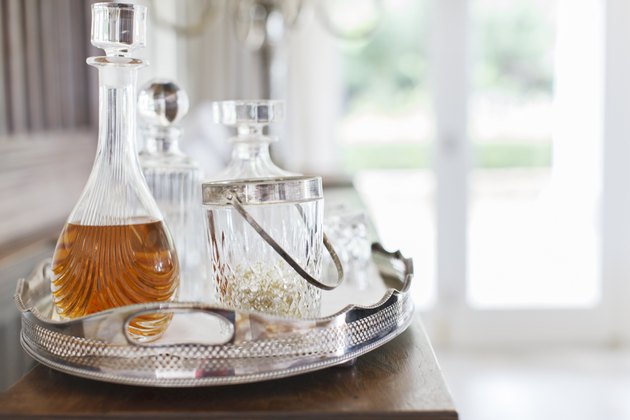 Calories and Alcohol
Weight loss is a matter of consuming fewer calories than you use, which can be more difficult sometimes if you're drinking. Not only do you need to account for the calories in the alcoholic beverages you're consuming but also any extra food you eat due to lowered inhibitions from the alcohol. A jigger of tequila has 115 calories, and the same amount of whisky, gin, brandy or rum has 115 to 125 calories, depending on the proof. If you add mixers to make a cocktail, the calories can really skyrocket. For example, a White Russian has 270 calories, an 8-ounce margarita has 453 calories and a pina colada has 644 calories.
Hard alcohol served plain offers a diet-friendly alternative to beer, and it's roughly on par with the calories in wine. Regular beer has about 145 calories per 12-ounce serving, lager has about 120 calories per serving and stout beer has about 190 calories per serving. A 5-ounce serving of red wine has about 105 calories, and the same amount of white wine has about 100 calories.
The calories from alcohol don't appear to affect everyone the same way, however. An article published in Critical Reviews in Clinical Laboratory Sciences in 2005 found that these calories affect people who are overweight and those following a high-fat diet more and that they also have more of an impact on weight in people who drink at least a moderate amount but do so infrequently.
Type of Alcohol and Weight
While wine may be associated with a lower risk of weight gain, the opposite appears to be true when it comes to hard alcohol, according to a review article published in Nutrition Reviews in 2011. People who drink more spirits tend to have a higher body mass index, as well as a higher waist-to-hip ratio than nondrinkers or those who drink beer. While any excess body weight can pose a health risk, a higher waist-to-tip ratio usually signals the presence of visceral fat -- a type of fat found deep in your abdomen that surrounds your internal organs and releases inflammatory compounds that contribute to heart disease. So not only will drinking too much hard alcohol up your risk of obesity, but it might increase your risk of obesity-related disease as well -- though more research needs to be done to figure out just how harmful it is.
Beer appears to have similar effects on weight gain to wine, according to another study published in the Annals of Nutrition & Metabolism in 2013. A study published in Public Health Nutrition in 2005 found similar results, with moderate wine consumption associated with a lower body mass index for men, hard alcohol consumption leading to an increased BMI and beer having no effect on BMI. The effect of the different drinking patterns still needs to be taken into consideration, however, and further research is necessary to verify these effects.
Drinking Patterns and Weight
People who frequently drink small amounts of alcohol may experience weight-loss benefits, while those who drink large amounts infrequently may be more likely to become too heavy, according to a study published in the American Journal of Epidemiology in 2005. The more drinks a person has per day, the higher his body mass index is likely to be. Another study published in BMC Public Health in 2005 found similar results, noting that people who drank one or two drinks per day and fewer than five drinks per week were less likely to be obese. Those who were binge drinkers or consumed more than four drinks per day, on the other hand, were more likely to be obese.
People who are obese tend to drink less alcohol, however, than those of normal weights, notes a study published in the Journal of Addictive Diseases in 2004. It appears that overeating and alcohol both compete for the same reward sites in the brain, so there's less incentive for obese people to drink large quantities of alcohol.
Tips for Drinking Hard Alcohol as Part of a Weight-Loss Diet
Limit yourself to drinking a moderate amount of alcohol, which is defined as no more than one drink per day for women or two drinks per day for men. You can drink hard alcohol and limit your overall caloric intake if you choose your cocktails wisely. For example, opt for diet soda or tonic instead of regular, which limits the calories in your drink to those in the alcohol. Cocktails that have 120 calories per serving or less include a 5-ounce Bloody Mary, a 4-ounce fuzzy navel, a 7-ounce Gin Rickey, an 8-ounce sloe gin fizz or a 7.5-ounce Tom Collins.