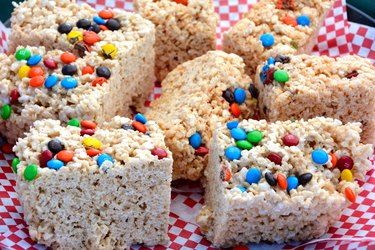 Developed in 1940, Rice Krispies Treats traditionally consisted of three ingredients: butter, marshmallows and Rice Krispies cereal. Marshmallow Fluff, a commercial brand of marshmallow crème, can be used as a substitute in Rice Krispies with Marshmallow Fluff.
Prepared from sugar, corn syrup, dried egg whites and vanillin, a vanilla bean extract, Marshmallow Fluff — and Rice Krispies Treats made with the marshmallow substitute — are high in sugar and low in nutrients. Enjoy them only occasionally and in moderation.
Use Butter or Margarine
The original Rice Krispies Treats recipe called for about 3 tablespoons of butter — approximately 1/4 cup — to make enough treats for 12 servings. The problem is, butter has a lot of saturated fat — the kind of fat that may contribute to heart disease, according to the American Heart Association.
According to the USDA, 3 tablespoons of butter contain 21 grams of saturated fats, while the same amount of margarine contains 9 grams of saturated fats.
Choose margarine that is free of trans fats, but avoid reduced-calorie or diet margarine, as well as spreadable tub margarine. If you prefer butter, choose whipped or light butter over regular butter for fewer calories and less fat per serving.
Stir in the Fluff
In a typical Rice Krispies Treats recipe, you can substitute an entire 7.5-ounce jar of Marshmallow Fluff for a 10-ounce package of regular marshmallows — approximately 40 marshmallows — or 4 cups of miniature marshmallows.
To make the sticky mixture that holds the Rice Krispies cereal together in the treats, you'll need to heat the Marshmallow Fluff with the melted butter or margarine on the stove top or in the microwave. Stir the mixture and check it frequently to make sure that it doesn't burn.
Add the Rice Krispies
Plan on using approximately 5 to 6 cups of Rice Krispies cereal for every jar of Marshmallow Fluff to make 24 square treats that are each about 2 inches wide.
If you can't find Rice Krispies cereal or if you want to increase the nutritional value of the treats, use the same amount of another type of puffed cereal, such as puffed brown rice cereal, which contains more fiber per serving.
The mixture can be sticky: Use a spatula or spoon that's lightly coated with nonstick cooking spray to combine the ingredients thoroughly.
Shape, Cool and Cut
Use wax paper; a wide, cold spoon; or a spatula coated with nonstick cooking spray to shape and press the Rice Krispies mixture into a baking dish lined with parchment or wax paper or sprayed with cooking spray.
When the mixture has hardened, cut it with a knife, pizza cutter or cookie cutter. Rice Krispies Treats stay fresh at room temperature in an airtight container for two days.
If you have extra treats, freeze them for up to six weeks, with layers of treats separated by sheets of wax paper. After removing the treats from the freezer, let them come to room temperature for 15 minutes before serving.