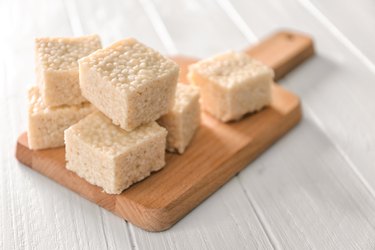 Before you write off these ooey, gooey treats as off-limits, make sure you know about Rice Krispies Treats calories and other nutrients. The low calorie count in these bars may surprise you.
Tip
Most prepackaged Rice Krispies Treats contain 90 calories per bar. However, mini treats and homemade versions vary in calorie counts.
The Centers for Disease Control and Prevention recommends balancing caloric intake and exercise to reach your ideal weight. Depending on your goals, activity and diet, Rice Krispies Treats calories may easily fit into your plan.
It's also important to look at more than just calories in your dessert. While Rice Krispies Treats and other desserts can be part of a balanced diet, be sure to watch your sugar intake. The Mayo Clinic Health System reports that too much sugar can increase your risk for dental problems, diabetes and high triglycerides.
Prepackaged Rice Krispies Treats
The Kellogg's brand makes several flavors of ready-to-eat, single-serving Rice Krispies Treats. The number of Rice Krispies Treat calories per bar depends on the flavor and size you choose. Most of the original-sized bars clock in at about 90 calories per bar.
The original bar with mini M&M's has even fewer calories with just 80 calories per bar, according to the Kellogg's website. If you are looking for a treat with even fewer calories, you can choose the Kellogg's Rice Krispies Treats Mini-Squares with just 45 calories per bar.
Some breakfast cereals can consist of up to 88 percent sugar by weight, and all of that sugar can wreak havoc on your body. However, Rice Krispies are relatively healthy and low in calories.
Make Your Own Treats
If you're looking for a dessert that you can easily make at home, check out a Rice Krispies treat recipe. While there are several ways to make these desserts, recipes generally include these ingredients:
Rice Krispies or a similar type of cereal
Butter or margarine
Marshmallows or marshmallow fluff
Some Rice Krispies treat ideas include additional flavors, such as chocolate chips or vanilla extract. Of course, your homemade Rice Krispies treats calories depends on the recipe you use. Knowing the calories in some of these options can help you make Rice Krispies Treats' nutrition fit into your daily diet.
The USDA reports the following calorie levels in these ingredients:
If you choose to make Rice Krispies treats with fluff, the total calories will depend on the brand of fluff you choose. Jet Puffed by Kraft is one popular option that contains 45 calories in each serving of 2 tablespoons.
When calculating your homemade Rice Krispies treats' nutrition, add up the calories of all the ingredients in the full batch. Then, divide the total by the number of bars you make. This gives you the total calories per serving.