Laminectomy is a surgery that relieves pressure on your spinal cord and nerves. This medical procedure, also called decompression surgery, can relieve the symptoms of a too narrow spine including pain, numbness, tingling and burning. Recommended exercise and movement restrictions help prevent injury and promote optimal healing after a laminectomy. Follow exercise guidelines only after consulting your doctor.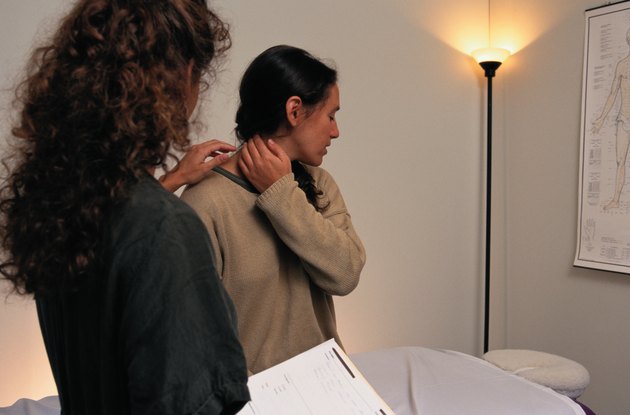 Laminectomy
A laminectomy removes the lamina, or back part of the vertebra covering your spinal canal. This procedure enlarges the spinal canal to relieve pressure on the spinal cord and nerves that occurs from a narrowed spine, or spinal stenosis. A laminectomy can be performed on your neck area, mid-back area or the lower-back portion of your spine. If two or more of your vertebra have separated, you may also need another procedure called a spinal fusion. A spinal fusion connects, or permanently fuses, your vertebra together using bone grafts, metal rods or screws. Recovery and exercise restriction times depend on whether or not a spinal fusion was performed.
Bending, Twisting and Lifting Restrictions
After a laminectomy, you must not bend, twist, push, pull or lift objects more than 10 lb., according to Johns Hopkins Spine Service. However, you can lift light objects by using your thigh muscles to bend your knees as long as you keep your back straight. Also, if your surgery involved the neck area, ensure that you do not bend or twist your neck. Avoid sports that involve lifting, bending and twisting such as weightlifting, baseball, tennis, racquetball and dancing.
Aerobic Restrictions
Following a laminectomy, do not participate in aerobic activities that produce excessive movement of your spine and pelvis, such as running and jogging. The California Pacific Medical Center also advises you avoid long walks and suggests taking frequent, short, daily walks, instead. Alternate your short walks with rest periods and gradually increase your walking to 30 minutes at least twice daily. Depending on your progress and surgeon's advice, you may eventually add stationary treadmills and bicycles to your exercise regimen.
Time Restrictions
MayoClinic.com recommends limiting your physical activities three weeks after laminectomy surgery and eight to 12 weeks after a spinal fusion. Six weeks following laminectomy surgery, you can progress to a basic exercise program that includes abdominal and back strengthening activities. However, avoid excessive motion of your spine and pelvis. Generally, you need to wait three months after a laminectomy before resuming a regular exercise regimen. Board-certified orthopedic surgeon John E. Sherman suggests that spinal fusion patients also wait three months before resuming high-impact aerobic exercises and other vigorous sports. However, depending on your situation and doctor's advice, you may need an additional three months or more to fully recover from spinal fusion surgery.