If you have difficulty passing stools or you pass infrequent hard, dry stools, you may be constipated. Constipation is a common condition that affects most people at one time or another. Bowel movements are a natural way of ridding the body of toxins. Some people may think they are constipated if they do not have daily bowel movements. Frequency of bowel movements may vary from person to person. Making lifestyle changes such as adding or eliminating foods from your diet may help prevent constipation. However, chamomile tea may also help. Speak with your physician about using chamomile tea.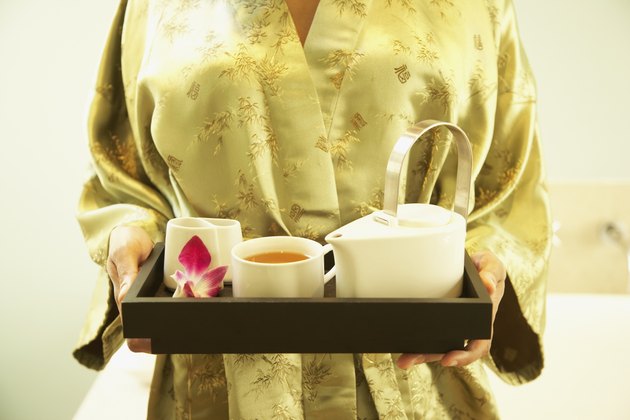 Causes
Constipation may be the result of an underlying health condition. However, it may just be the result of insufficient fluids and fiber in your diet, according to the Mayo Clinic. Of the two types of fiber, soluble fiber, when mixed with water, helps soften the stool. Insoluble fiber adds bulk to stool as it passes through the intestines unchanged. Lack of exercise, poor diet, advanced age and certain bowel disease can also cause constipation.
Chamomile
Chamomile is native to Western Europe, the British Isles and North Africa. Chamomile contains anti-spasmodic, soothing and stomach-toning properties that make it useful in treating an array of digestive conditions such as gas, abdominal bloating, constipation and other digestive disturbances. When used as an alternative treatment for constipation, chamomile tea can help relax the smooth muscles found in the intestines, allowing stool to pass easier.
Doses
Chamomile tea can be made by adding 2 to 3 heaping teaspoons of dried herb to 1 cup of boiling water. Allow the tea to steep for 15 minutes. Chamomile tea can be drunk up to four times per day between as a general digestion aid. According to the University of Maryland Medical Center, there has not been a specific dosage determined for children, so speak to your child's pediatrician to determine the proper dosage.
Warnings
Chamomile should not be used if you are taking certain medications, such as sedatives or some forms of birth control, anti-fungal drugs or statins. Consuming large amounts of chamomile tea may lead to nausea and vomiting. If you are using chamomile tea and an allergic reaction develops, stop using the tea immediately and call your doctor.