Chamomile tea is an herbal tea made from dried chamomile flowers. This medicinal plant is known for its antibacterial, anti-allergenic, anti-inflammatory health properties. It is also thought to help with bowel problems.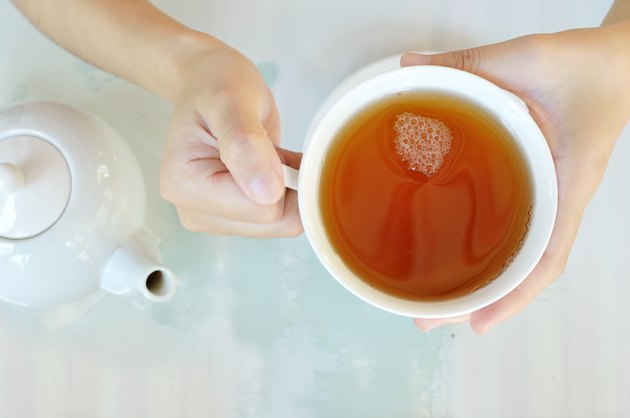 Tip
Chamomile tea is touted for its qualities to help with everything from sleep to bowel problems. Some research has shown that chamomile tea helps with constipation, but the research is limited.
Chamomile Tea Good for Constipation?
Chamomile tea is usually made from German chamomile, a bushy shrub. It has historically been used to treat irritable bowel syndrome, stomach cramps, indigestion, diarrhea, gas and colic, according to the University of Illinois-Chicago.
Today, chamomile is widely regarded in the natural health community as a dietary supplement for gastrointestinal conditions including constipation. According to the NIH National Center for Complementary and Integrative Health (NCCIH), the health effects of chamomile have not been well studied in people, including whether chamomile tea is good for constipation.
There is some research showing that combinations of herbs including chamomile may help stomach trouble, NCCIH says. "But chamomile alone has not been shown to be helpful for these conditions," says NCCIH. Many of the studies using chamomile look at stomach problems in general, while a few zero in on constipation.
What Does Chamomile Do?
Chamomile may actually help to regulate contractions in the digestive system, possibly decreasing heartburn, said a study in the April 2015 issue of The Gerontologist. That could make it beneficial for bowel problems like constipation.
Constipation can be caused by slow muscle contractions in the large intestine, according to the International Foundation for Gastrointestinal Disorders. Although many studies on chamomile use liquid extract, chamomile may be consumed as an herbal tea, in capsule or in tablet form.
One recent study did specifically show benefits for constipation, but it was very small. An article in the January 2015 issue of Der Pharma Chemica discusses a study of 45 people who suffer from irritable bowel syndrome (IBS). The 22 patients who suffered from constipation did find relief from their constipation when given chamomile extract. After the extract was withdrawn, most found their constipation had returned.
More About Chamomile
NCCIH said chamomile can also be used as a topical skin application, either as a cream or ointment. In addition, it can be made into a mouth rinse. Some people take chamomile to soothe anxiety disorders. Preliminary studies show it may be helpful, NCCIH said.
Chamomile may trigger an allergic reaction in some people. NCCIH says allergic reactions have been reported, including some rare cases of anaphylaxis, a potentially fatal allergic reaction. Typically, those who are allergic are also allergic to ragweed, chrysanthemums, marigolds or daisies.
There have been reports of interactions between chamomile and cyclosporine, an anti-rejection drug taken by people who have had organ transplants, and chamomile and warfarin, a blood thinner. If you want to try chamomile for constipation or another type of gastrointestinal disorder, it's a good idea to discuss this with your doctor first.