Hearty chili serves as comfort food in many homes, and everyone has their own favorite recipe. Beans are one of the star ingredients in many versions, although some people prefer their chili without beans. Kidney beans are the most commonly used beans in chili, although many other types can be used as well. You can use canned beans for chili; or if you have time and want to reduce your expenses, soak dry beans for your recipe.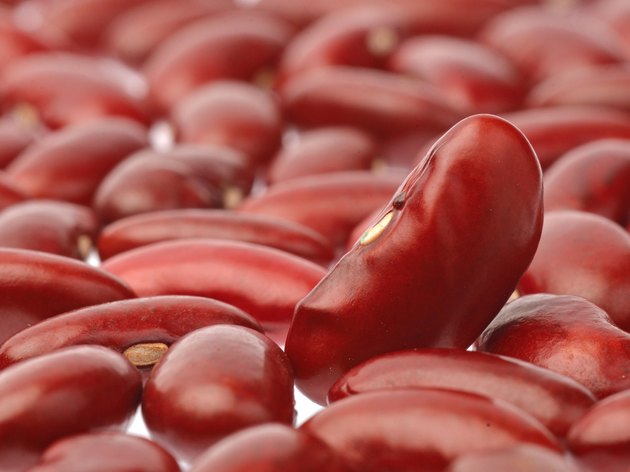 Long Soak
Step 1
Place the dry beans in a stockpot.
Step 2
Cover the beans with water. Use 10 cups of water for every pound of beans you are soaking.
Step 3
Place the covered pot in the refrigerator and allow it to soak for six to eight hours or overnight.
Step 4
Remove the beans from the refrigerator.
Step 5
Pour the beans and water into a colander or drainer in the kitchen sink to drain away the water.
Step 6
Rinse the beans with cold water.
Hot Soak
Step 1
Fill a stockpot with water, using 10 cups of water for every pound of beans you plan to soak.
Step 2
Turn on the stove and bring the water to a boil.
Step 3
Add the dry beans to the boiling water and return the water to boiling.
Step 4
Let the beans soak in the covered pot for two to three hours at room temperature.
Step 5
Drain the beans in a colander or drainer and rinse with water.
Things You'll Need
Stockpot

Colander or drainer
Tip
Once soaked, beans need to cook for about an hour before you add them to your chili, Fine Cooking reports. To cook them, place the beans and 3 cups of water for every cup of beans to a stockpot and bring it to a boil. Then simmer uncovered for about an hour.
Use the following equivalency for determining how many beans to soak for your recipe: 1 cup of dried beans equals 2 1/2 cups cooked beans.
To soak the beans more quickly, add them to boiling water and then cook for two to three minutes. Reduce soaking time to one hour before draining and rinsing, advises the Centers for Disease Control and Prevention.