Beans, often jokingly called "the musical fruit," may cause a variety of digestive complaints. Gas, bloating, abdominal pain and constipation could all be attributed to bean consumption. However, beans are very healthy foods providing a good source of lean vegetarian protein and dietary fiber. Eating a diet rich in fiber may actually help improve your digestion, aid in weight control and reduce your cholesterol level. There are also strategies you can take when cooking beans to improve your digestion of them.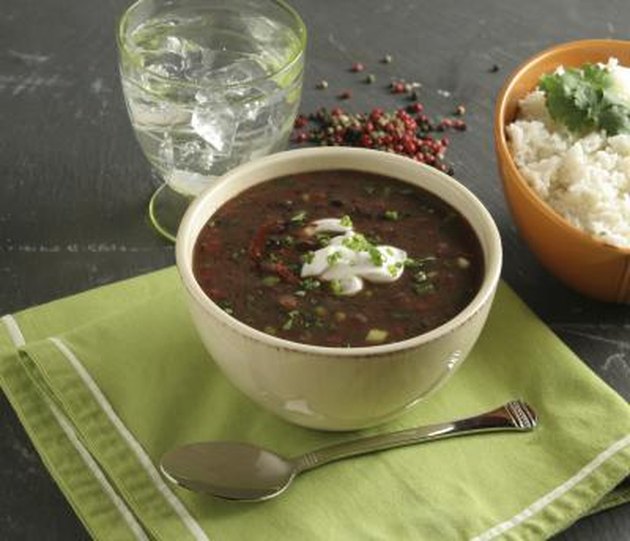 Gas Formation
Beans contain carbohydrates that your body is unable to digest and also contain enzymes that block the full digestion of other starches, according to a report written by Dr. Fernando Azpiroz and published in the International Foundation for Functional Gastrointestinal Disorders. As a result, these carbohydrates pass into your large intestine mostly intact. Beneficial bacteria reside in your large intestine and consume these carbohydrates for energy releasing the gases hydrogen and carbon dioxide. Other bacteria in the large intestine consume the gases and in turn release methane or sulfur-containing gases, which contribute a foul odor to flatulence. The more indigestible carbohydrates you eat from beans, the more opportunity the bacteria have to produce gas inside your intestines.
Bloating and Pain
When intestinal gas accumulates from eating beans, it may cause bloating, cramping and pain in your abdomen. Eventually most of the gas will pass out of your body as flatulence. According to Dr. Azpiroz, it's normal for most people to pass gas about 20 times per day. Some of the gas in your intestines also gets absorbed into your blood stream and travels to your lungs where it is expired. So, foul smelling breath can also be an indicator of intestinal gas. If your discomfort and pain from gas do not resolve, see a health care provider.
Constipation
Fiber from foods such as beans absorbs water in your digestive tract. It swells and helps to form a sort of gel that provides bulk inside your intestines. This helps to keep the food moving and prevents constipation. However, if you consume a high-fiber diet and do not drink an adequate amount of fluid, the fiber can become dry and hard in your digestive tract, which can contribute to constipation. According to the National Digestive Diseases Information Clearinghouse, having less than three bowel movements per week or having stools that are difficult or painful to pass qualifies as constipation. If you become constipated, gas from eating beans may be more difficult to pass, contributing to bloating.
Tips for Reducing Gas
If gas is a perpetual problem for you when consuming beans, try a few different cooking techniques to improve your digestion of them. The University of Michigan Health System notes that adding a small amount of baking soda or vinegar to the water when soaking dry beans helps to leach out and reduce the number of indigestible starches. Don't cook the beans in the water they soaked in, and rinse them thoroughly before and after cooking. Slow cooking the beans, such as in a slow cooker may also decrease the gas-causing compounds. You can also purchase over-the-counter digestive enzyme supplements to aid in the breakdown of starches and reduce gas production.